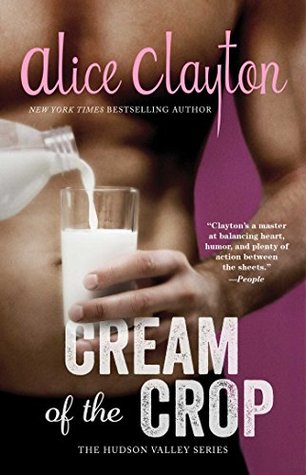 Cream of the Crop by Alice Clayton
4 stars!
"Brie?"
"Oh, yes."
City meets the country in this newest book from Alice Clayton. Natalie is a beautiful and curvy plus sized woman working in marketing in New York City. She's confident in everything, her looks, her job, and her life. Everything that is except the cheese guy at the farmer's market every weekend. Normally Natalie has no problem approaching a man for what she wants, but this dairy farmer has her twisted up in knots.
When an opportunity with her job brings her to Bailey Falls, Natalie finds herself face to face with a certain dairy farmer, and she decides to go for it. Oscar is completely different from other men for her, he's stoic, kind and keeps to himself. Opposites attract in this countryside romance, and shows us sometimes what we need is to consider what we want, and what makes us happy.
If I ever developed lactose intolerance, I'd throw myself into the East River."
Alice Clayton delivers another funny and sweet romance. Cream of the Crop can be read as a standalone, but as always I recommend reading the first book as it really sets the town feeling in this book.
The chemistry between Oscar and Natalie was scorching, and I liked that he was on board with a plus sized heroine and loved her curves. Oscar liked Natalie for who she was and didn't want her to change. There were some issues from Natalie's past that I felt were very much brushed over near the end, but otherwise I really enjoyed this romance.
Fans of romantic comedies and Alice Clayton fans will love this book, it's the perfect summertime romance!
"Where did you come from?"
"The West Village."
ARC provided by author in exchange for an honest review