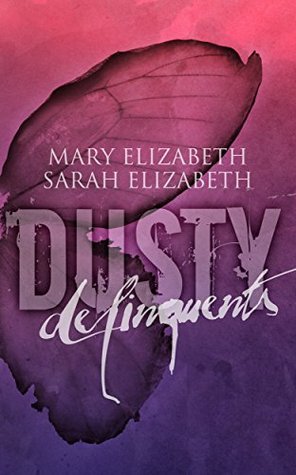 Delinquents (Dusty #2) by Mary Elizabeth and Sarah Elizabeth
3.75 stars
***There may be mini spoilers for those who have not read the first book Dusty Innocents! Proceed at your own risk!!!***
"Nothing about love is easy."
Wow these two books are probably some of the most conflicting books I've ever read!
Deliquents begins with Dusty having been gone for a long time, no one knowing where he went. Upon his return Bliss accepts him back into her life the way things had always been between them. Their relationship continues to be a secret, mostly because her parents wouldn't approve. But their love for each other still burns strong, despite Dusty's struggle with drugs.
"It's not even fair to want someone as heavily and wholly as I crave this person. I feel too small to contain it, and all he did was look at me."
I enjoyed this book much more than the first book Innocents. I felt the writing was smoother and the plot flowed a lot better. I still don't like the use of nicknames and the way the authors have adjectives as names. And of course I didn't care for the actions of Dusty in this book.
But what made this book better than the first was I began to understand his struggle, I understood his choices a lot more. Plus he was no longer cheating on Bliss and was struggling with his past actions and how they affected Bliss. He really was questioning whether being in her life was good for her, and to me that showed genuine love that he wanted what was best for her.
Ultimately these books have unforgettable characters and a story that will stick with me. It's not a picture perfect book but these aren't perfect characters, so it fits.
"Because I love you." I refuse to allow fear into my voice. "Because I love you, nobody else will ever touch me. Even though you are constantly touched."