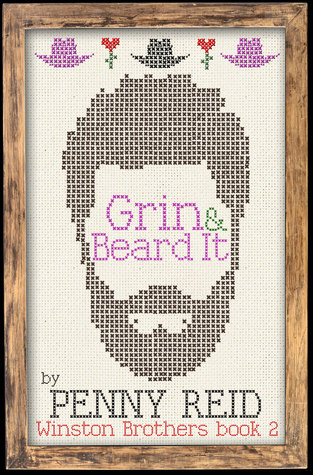 Grin and Beard It by Penny Reid
3.75 "put your best fuck forward" stars!
"It's good to care what other people think but only when those other people matter."
Grin and Beard It is the story of the eldest Winston brother Jethro, and Hollywood starlet and funny girl, Sienna. Sienna is a famous actress and comedian filming in Tennessee when she gets lost trying to locate the house she's staying in. Ranger Jethro rescues her from the side of the road and the two hit it off right away.
Both are hesitant to pursue the other, Sienna with her Hollywood career constantly interfering with her personal life. Jethro has a wild past he is ashamed of and made vows about the kind of man he wants to be. Both need to figure out a way to fit the other into their life plans, but the chemistry between them is potent and undeniable.
"It felt real. He felt real. I loved that he was real."
I enjoyed this newest book from Penny Reid. It follows along the lines of a traditional romance, one with a sweet story and a slow burn. But while the romance itself is traditional, I felt there was a lot that was progressive about this story. For one, this is a movie star romance novel, but instead of the star being a man, it was a woman. Not only was she a star, but she also wrote her own movies and was Latina (something unfortunately hard to find in the white-washed genre of romance). I loved reading about Sienna because I love strong intelligent women who work hard for what they want instead of lying down and letting a man take charge.
"Every step of the way I'd been scolded for being happy with myself. How dare I be happy with who I am, my size, the color of my skin, that I can make both men and women laugh."
The portrayal of Hollywood was something else I liked in this book. Growing up in LA I am pretty jaded about that whole industry and I hate how it's glamourized. Yes there are positives to it, but many authors gloss over the negatives and Penny didn't do this. Sienna's career affected her daily life in ways we take for granted, such as how to look, act, eat, drink, speak and more. The fact that she was size 14 and working in Hollywood successfully is impressive to me because you don't see that all too often.
As per usual in Penny's books, there's sharp wit and humor laced throughout the story. I found myself laughing out loud at many points and smiling a lot as well. I wouldn't say this is a romantic comedy but I think readers will connect with the humor spread throughout.
"Where I'm from they call your kind a hipster or lumbersexual, with the beard and the flannel and such."
"Ah. See, where I'm from, they call my kind a man."
Side characters: Cletus gets MVP. Oh. My. Gawd. That man!!!!!! I need more Cletus in my life. I can't ever put my finger down on what he will say or do next, or even what he is thinking. He managed to be a comedic relief, relationship guide, and a scary MoFo all at once! Also, I am dying to read Billy's book. I'm not kidding, the wait for his book will be the death of me!
"I think we all need someone who sees the best in us."
So why not a full five stars? Well, I blame it mostly on personal preferences. Sweet romance isn't what I normally choose to read, and this book was fairly sweet and romancey. I also didn't have that spark with it, the one you get when you absolutely love a book? Overall I liked this book, but it wouldn't be my first choice to reread.
Readers far and wide will love this book and these characters, Sienna and Jethro make a delightful couple many will enjoy. The Winston brothers are a fun and unique bunch and I find myself cursing my parents for making me an only child, even though I suspect my siblings wouldn't be half as cool as these guys. If you want a book to curl up with on a rainy day with some tea, this is the book for you.
"Jethro Winston was my forever person. I would never be strong enough to let him go."
ARC kindly provided by author in exchange for an honest review
Giveaway Link
Sienna Diaz is everyone's favorite "fat" funny lady. The movie studio executives can't explain it, but her films are out-grossing all the fit and trim headliners and Hollywood's most beautiful elite. The simple truth is, everyone loves plus-sized Sienna.
But she has a problem, she can't read maps and her sense of direction is almost as bad as her comedic timing is stellar. Therefore, when Sienna's latest starring role takes her to the Great Smoky Mountains National Park she finds herself continually lost while trying to navigate the backroads of Green Valley, Tennessee. Much to her consternation, Sienna's most frequent savior is a ridiculously handsome, charming, and cheeky Park Ranger by the name of Jethro Winston.
Sienna is accustomed to high levels of man-handsome, so it's not Jethro's chiseled features or his perfect physique that make Sienna stutter. It's his southern charm. And gentlemanly manners. And habit of looking at her too long and too often.
Sienna has successfully navigated the labyrinth of Hollywood heartthrobs. But can she traverse the tenuous trails of Tennessee without losing her head? Or worse, her heart?