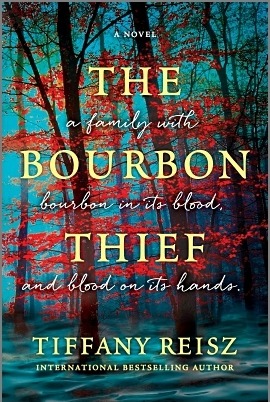 The Bourbon Thief by Tiffany Reisz
5 stars!
"As long as nobody gets hurt and it doesn't spook the horses, do what you want and keep the details to yourself."
Tiffany Reisz yet again delivers an enchanting and haunting tale of love and family, and how family legacy can affect one's fate. The Bourbon Thief begins when a man named Cooper spends the night with a femme fatale named Paris, and wakes up to discover she tried to steal a million dollar bottle of bourbon from him. When he confronts her, she tells him the tale of the downfall of Maddox family and the events leading to the fire that claimed their bourbon factory.
Switching from present day point of view to that of Tamara's in the late 70's and early 80's, we are presented with a captivating story of love and suspense of young Tamara and Levi.
"I'm riding in the wind with joy at my feet and freedom in my hair."
This was one of those books where once the story began I was sucked in and wouldn't look up from my kindle. After the introduction of Tamara and Levi, I found myself completely invested in their story, as beautiful and haunting as it was. What was interesting to me was the mystery aspect, which isn't a typical suspense novel but a question of what would happen to these characters based on all of the elements coming to play against them.
There were lots of twists and surprises, some I guessed at and some that felt like a punch I was so shocked at them. Ultimately Reisz delivers a beautiful story of love, heartbreak and family and it's a story I could see myself reading again and again.
"I know I love you. You're perfect and handsome and I think about you all the time and I want you all the time and I love you."
"All the time?"
"All the time."
ARC provided by publisher via Netgalley in exchange for an honest review