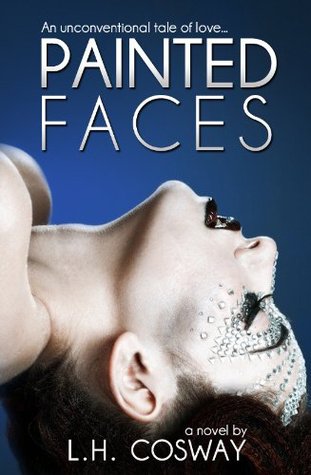 Painted Faces by LH Cosway
5 odd and unconventional romance stars!
"We all paint on a face to show the world. For some of us, that's quite literal."
Wow. Just…. WOW. I have never read another book quite like this one before. It completely blew me away!!! I mean, I never would have thought "straight drag queen" and "romance" would fit in the same category, but I was wrong!!!
Painted Faces is about Freda, a twenty something Irish woman who works odd jobs and has some terrible ex boyfriends. This story begins when Fred has a new neighbor move in and he immediately expresses interest in her. Nicholas is attractive and suave, and despite his advances Fred almost has him pegged as gay. But then she see's his show and realizes he's a drag queen and everything begins to make sense.
Nicholas offers Fred a job working as his assistant and she accepts. As time goes by the attraction between the two of the builds, but Fred is wary of his advances. Nicholas has slept his way across Europe and she isn't sure if he's serious about her, or just looking to shag her.
"I want to ruin you Freda, in the best way possible."
I honestly didn't know what to expect going into this book. I had read some of Cosway's books before, but a friend had told me to read some of her earlier work as it was a little bit different (I then found out this friend hadn't read this book yet lol). I'm so glad I read this book, and I kind of can't believe I haven't read it before. Why has no one recommended me this book???? Book friends, you are slacking!!! jkjk.
I loved both characters so much. Fred was an amazing heroine, she had insecurities yet she stood up for herself. She was understanding and accepting of ideas new to her. Was she perfect? No. But that's what I liked most about her. Nicholas, oh he's something else. He changed what I thought about masculinity. In a literary world of alpha males and dominance, here came a different kind of romantic hero and his uniqueness shone through the pages.
"I might not have a boyfriend, but I have cupcakes, and those tasty bastards haven't let me down yet."
This was such the perfect blend of romance and angst for me. I couldn't put the book down, I was reading well into the early hours of the morning when I should have been sleeping. Believe me this book was worth not being able to adult properly the next day. I was so enraptured by this unique and special story, I didn't want it to end.
So as you can tell, I bloody loved this book. I find myself wanting to go back and reread it even as I type just to be near Nicholas and Freda again. I can honestly say this is my favorite Cosway book to date and I probably will be binge-reading the rest of her books sometime real soon.
"It feels like nobody in the history of the world has loved another person as much as I love you. I love you so much it hurts. You make me smile, you make me laugh, you make me burn."