Unbreak My Heart by Nicole Jacquelyn
4.5 stars!!!
"Love can overlook a lot of things."
If I could sum up this book in one gif, it would be this one: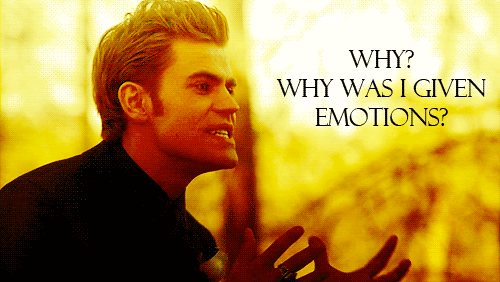 Good gawd, this book and all of the emotions and feels. It ripped me apart inside and tore out my guts. I picked up this book because a fellow reviewer/blogger said ANGST and I was sold. Honestly I am that much of an angst whore and I have no shame.
Ten years ago Kate and Shane were friends, until Shane met Kate's friend Rachel, fell in love and married her. Rachel and Kate were best friends at this point, yet over the years Shane and Kate grew apart. Kate was there for Rachel when Shane was deployed and essentially another parent to Rachel and Shane's four kids.
But when Rachel dies, everything changes. Having been around their entire lives, Kate steps in to help raise the kids with Shane. About a year after her death, Shane and Kate take comfort in each other, an action that leads to a lot of awkwardness and regret.
"I'd loved him from afar for most of my adult life, and while I didn't see that changing anytime soon, I also didn't expect that he'd ever return those feelings."
This book broke me. For those of you who love angst like me, this book is an all you can eat buffet of it. I can honestly say if you don't care for angst, this isn't the book for you. I loved this book, I loved Kate, I loved the kids. Shane…… well he's a hard man to love. He's not a sweet hero, in fact he can be a real big dick. But, he grew on me.
There was this one part, and those who have read the book will understand, that freakin killed me to read. I felt the hero wouldn't be redeemable after reading this part of the book but I was wrong, because he did. I also feel Kate responded to his actions exactly how I would, and in fact she was more understanding than most because she truly loved this man. Even though he wasn't perfect, even though he wasn't always the nicest, she saw him for who he was and she every part of him.
I think this is a special story and was the perfect book to read for my mood. I cannot believe I've never read anything by this author until now and I'll have to read more of her stuff very soon. Fans of author Natasha Anders will love this book.
"I don't know what I'm doing Kate, but I know that I want you."
ARC provided by publisher via Netgalley in exchange for an honest review