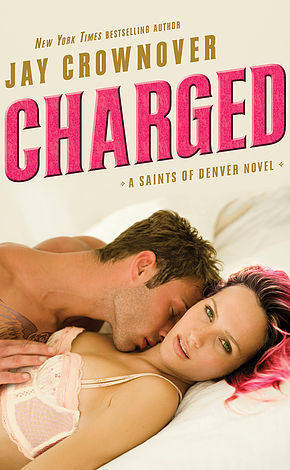 Charged by Jay Crownover
Review:
4 stars!
"It's better to have nothing with the right person than to have everything with the wrong person, isn't it?"
Charged is the story of Avett and Quaid, a couple no one expected but one that was explosive. Avett is a pink haired rebellious daughter of Brite, the man Rome bought his bar from in the previous series. Avett has had her low moments but while she was never the good child she never ended up behind bars. Until now that is when her ex-boyfriend drags her into a situation that gets way out of hand. Quaid is the attractive and ruthless lawyer hired to represent Avett.
On the outside Quaid and Avett don't make any sense; she has a rocker chick look, and he's the man in the expensive suits. Avett doesn't want to depend on the lawyer, but as time goes by she begins to realize she needs to accept help in her life and not just from Quaid. Together they embark on a journey of self-realization and discover the person they want to be in their own lives. But that doesn't necessarily mean reality won't set it.
"Nothing is guaranteed, especially love, but only a coward doesn't roll the dice and take a chance on it when it's right there in front of them."
First off I gotta say Jay Crownover writes some of the best introductions in her books. Almost every time I read one of her intros I either tear up a bit or am inspired. Sometimes both! Second, I love the way Jay writes her characters. This is the twelfth book I've read by her (and I've been hooked to her books since Rule came out) and I can honestly say none of her characters ever feel repetitive or the same. On top of that I feel Jay writes some of the best female characters out there, highlighting their strengths and weaknesses and showing how those things combined can create a beautiful person. Many of these women in her books I wish were my friends.
This book comes across as an opposites attract story, but I feel it was more than that. This book was more about how we all have so much in common despite what we appear to be to other people on the outside. Avett's personal journey was one that was tough to go through because for every failure, she brought herself down more than anyone else could. It was a long journey to the point where she felt she deserved to be forgiven for her past wrongs, but it's one worth reading.
"The fact that when you were a bad person, bad things happened to you and I knew I deserved them all. Every lesson I learned, I held close and let prick at me with sharp barbs over and over again."
Avett and Quaid had explosive chemistry and the two of them just worked. I normally am not a huge fan of large age gaps but the nine to ten years between them worked fairly well. Avett at this point was done with her crazy years and not acting immaturely in the timeline in the book. Quaid had reached a point in his life and career where he knew what was worth fighting for. He knew when to appreciate a laid back woman and he didn't place a bunch of expectations on Avett, her just supported her.
The only thing that I didn't love in this book was there was a bit of instalove and very little angst. I was kind of hoping for more verbal dialogue between the characters but there seemed to be a lot of internal dialogue from both characters instead. And a lot of the time the characters were a bit too insightful than real people would be, saying all the right things at exactly the right time. But it didn't take away from my enjoyment of the book at all.
I think many people would enjoy this book and would enjoy Avett and Quaid. While this book can be read as a standalone I recommend reading the Marked Men series first as well as the two other books in this series as it enhances the experience for the reader.
"I'm glad you finally found you."
ARC provided by publisher in exchange for an honest review
Excerpt:
Avett
"This is a bad idea." I knew it. I could feel it deep in my bones and the allure of letting go, of doing what I always did, and falling headfirst into disaster, was pulling at me hard. But I was supposed to be changing. I was supposed to actually be sorry, not just saying it and turning around into the next catastrophe. I knew kissing Quaid Jackson was going to lead to all kinds of sorry and sorrow. I knew it as much as I knew I didn't care and that I was going to kiss him and chase this bad idea until it crashed and burned, like they always did.
"You made a lot of them lately. What's one more?"
He was right. What was one more? Especially when it looked like him, when it smelled sleepy and expensive like he did, when it felt hot and hard pressed up against me. What was one more awful choice when it came with lips that were firm and demanding as they landed against mine? What was one more when it was attached to rough hands that brushed along my exposed rib cage and paused under the achy swell of my breast? What was one more bad decision on top of all the other ones that had led this particular mammoth-sized bad decision to my door?
I had plenty of time, tomorrow, to do the right thing, but now I was going to enjoy the hell out of the wrong thing as he pressed his mouth more insistently into mine, taking the choice of which came first—the kiss or the story—out of my hands. Maybe that was why I was so drawn to him, so attracted to everything there was about him. He didn't give me the room or the chance to make any kind of choice, good or bad. He decided and I followed his lead towards victory or towards ruin…and this kiss felt like it had everything in it to ruin both of us.
It was the first time in my life that a bad idea felt like the best idea I had ever had.
About CHARGED:
From the New York Times bestselling author of the Marked Men books comes the second installment in the Saints of Denver series featuring a bad girl and a by the book attorney who could be her salvation…or her ruin.
Avett Walker and Quaid Jackson's worlds have no reason to collide. Ever. Quaid is a high powered criminal attorney as slick as he is handsome. Avett is a pink-haired troublemaker with a bad attitude and a history of picking the wrong men.
When Avett lands in a sea of hot water because of one terrible mistake, the only person who can get her out of it is the insanely sexy lawyer. The last thing on earth she wants to do is rely on the no-nonsense attorney who thinks of her as nothing more than a nuisance. He literally has her fate in his hands. Yet there is something about him that makes her want to convince him to loosen his tie and have a little fun…with her.
Quaid never takes on clients like the impulsive young woman with a Technicolor dye job. She could stand to learn a hard lesson or two, but something about her guileless hazel eyes intrigues him. Still, he's determined to keep their relationship strictly business. But doing so is becoming more impossible with each day he spends with her.
As they work side-by-side, they'll have to figure out a way to get along and keep their hands off each other—because the chemistry between them is beyond charged.
BUY LINKS:
 Amazon ** iBooks ** Barnes & Noble ** Kobo
And don't miss the first titles in The Saints of Denver Series!
About Jay Crownover:
Jay Crownover is the New York Times and USA Today bestselling author of the Marked Men, The Point, and the Saints of Denver series. Like her characters, she is a big fan of tattoos. She loves music and wishes she could be a rock star, but since she has no aptitude for singing or instrument playing, she'll settle for writing stories with interesting characters that make the reader feel something. She lives in Colorado with her three dogs. 
Links:
Website ** Blog ** Facebook ** Twitter
CHARGED Goodreads ** Jay Crownover Goodreads