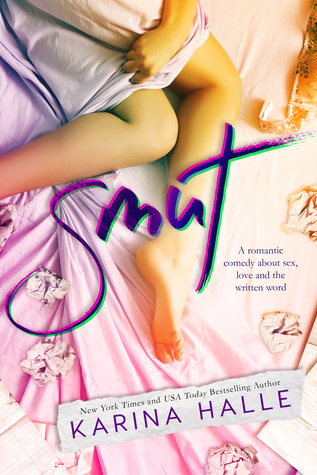 Smut by Karina Halle
4 stars
"She's a nerd on the streets and a freak in the sheets."
Blake and Amanda are the least likely to be paired for a writing assignment in class. So when the professor does in fact put them together to write a final project, the two are not thrilled with the prospect. Blake is a hot playboy getting his business degree, and Amanda wants to be a serious writer when she graduates from college. The two have no choice but to work together to write a great novella in order to pass the class.
Despite tensions at the beginning, the two end up forming a nice friendship and find they write well and enjoy spending time together. When the semester is over, Blake comes up with an idea that involves spending more time together, and could possibly help their careers.
"It's not new to want to keep shagging a girl-if the sex is good, how can you not? But when she is all you think about, every moment of every day, well then buddy, you have a problem."
So first things first, this book was HOT. Dear lord, that library scene? #lifegoals. I really enjoyed this book from Ms. Halle, she's always been witty and funny in her past novels, so I had no doubts whatsoever that she could pull off a romantic comedy. There were many moments where I laughed out loud while reading and I had a giant smile on my face the rest of the time.
Blake and Amanda are a couple I loved to read about, their banter and their romance. I also loved Amanda's roommate Ana! Hilarious side character, would love to see more of her and wish she would pop into other Halle novels (a girl can dream). I also enjoyed all of the nerd talk and references.
I think this book came at the perfect time, just before summer. I could see many readers enjoying this book on vacation or lounging outside in the sun.
"Anywhere you want to go, my peach. But we're going together."
ARC provided by author in exchange for an honest review