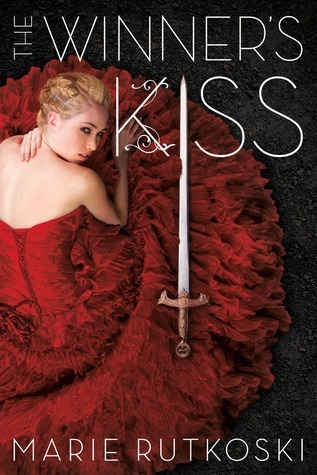 The Winner's Kiss by Marie Rutkowski
4 stars!
"You don't need to be gifted with a blade. You are your own best weapon."
A fantastic end to a great series! Warning now, if you haven't read the previous two books in the series, there will be spoilers in this review. If you have read those books, this review should be spoiler free for this final volume.
Arin journeys to a new land hoping to gain political allies in a war against the Valerian emperor. Unknown to him, Kestrel has been discovered as the Moth, a spy betraying her own people. Kestrel, betrayed by her own father, has been sent to a work camp in the north. No one but a few enemies knows she's there, and she begins to wither away with each passing day.
"Will you come with me?"
"Ah, Kestrel, that's something you never need to ask."
This is an absolutely superb series!!!! While this final book wasn't perfect, it wasn't a train wreck either and I always appreciate this when reading the third book in a trilogy. And I'm glad I waited and was able to dive right in after finishing the second book because that cliffhanger was killer!
I found myself enraptured in the tale of what happened to the characters. Kestrel's was so heartbreaking and I longed for Arin to discover where she was (to the point of wanting to whack him over the head). For a book that's almost 500 pages, there were a few slow moments, but the majority of this book I couldn't put it down. There were some parts that were way more violent than I expected but it seemed realistic to the plot of the book. I also loved the side character of Roshar, the eastern prince. I'm kind of wishing he gets his own book? Maybe? Cause that would be awesome.
My only disappointments as I said before was some parts lagged in the middle. But the ending seemed rushed and not all loose ends were tied leaving me wondering the fate of some of the kingdoms. Maybe I missed it but it was a bit perplexing to me.
Overall Rutkowski is a wonderful fantasy/political intrigue writer and I look forward to anything she produces in the future.
"Arin pulled her onto his lap. He held her shaking form, tucked his face into the crook of her cold neck as she sobbed against him. He murmured that he loved her more than he could say. He promised that he would always choose her first."