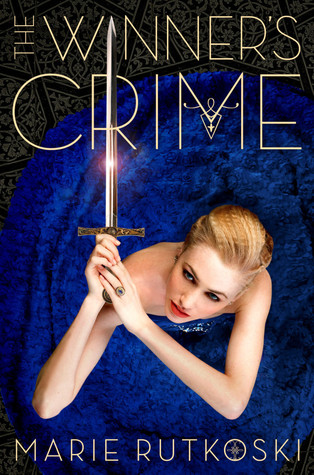 The Winner's Crime by Marie Rutkowski
4 stars
"If you won't be my friend, you'll regret being my enemy."
Boy am I glad I waited to read this book, because holy mother of cliffhangers! Now I can continue to the next one no waiting. Waiting would have sucked!
The second book in a trilogy, The Winner's Crime continues after the events of the first book. If you have not read the first book, there will be spoilers pertaining to that in this review. Otherwise it should be spoiler free.
Kestrel is engaged to the son of the Emperor, a deal she made to free Herrani from war with her country. Arin has become governor of his people and must lead them however he can. Kestrel's engagement has landed her in a political web, one where she must always be on her guard. When it comes to Arin, he is her only weakness and she will do whatever she can to keep him safe. Arin is left frustrated and in the dark, feeling one way for Kestrel despite signs that he should forget her and let her go….
"An emotion clamped down on her heart. It squeezed her into a terrible silence. But he said nothing after that, only her name, as if her name were not a name but a question. Or perhaps that it wasn't how he had said it, and she was wrong, and she'd heard a question simply because the sound of him speaking her name made her wish that she were his answer."
This second book was a lot more political than the first. The first being more about the romance and rebellion, this one was about secrets and intrigue. If you are shipping Arin and Kestrel, it is a painful couple to wish for because the two of them cannot seem to get a break. Kestrel is trying to keep Arin safe, and Arin just wants answers which will put him in danger.
I think this was a great follow up to the first book, but I didn't have the LOVE IT feelings I did for The Winner's Curse. But it is thoroughly enjoyable and I liked the story the author weaved, making it difficult to guess what would happen next. My heart bled for all of the heroes of this book and I wanted all of the villains to die! I cannot wait to read the next book.
"Sometimes you think you want something when in reality you need to let it go."
I won this paperback copy in a Goodreads giveaway. About a year ago. I'm so sorry it took me so long to read this book! I wanted to wait for the final book to be released before diving in, which I don't regret.