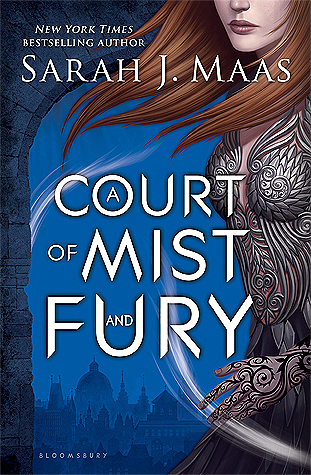 A Court of Mist and Fury by Sarah J Maas
2.5-3 stars
Hmmm. Whelp. This wasn't really what I expected. A Court of Thorns and Roses was one of my favorite books from last year, it was on my top reads of 2015 and everything. So to say I was excited for this book is an understatement.
I should have lowered my expectations.
Not to say I didn't enjoy this book, I did. Some parts. Like as a whole of the 640 pages, I enjoyed about 250. That's not horrible right? So I'm gonna break it down into what I did and didn't like.
Dislikes:
-The way the author tossed aside old characters for new ones: like this really upset me. Many have also expressed dislike at the way Tamlin was portrayed in this book. I know he wasn't perfect in the first book, but it felt like the author blatantly sabotaged him and turned him into something he wasn't so that the readers would hate him. And while it worked, it also made me hate the author a little bit too. Cause it was a quick hack job to quickly get the readers to switch sides and I feel Tamlin was worth more than that.
Plus on top of that I hated Lucien too. And then she introduces new characters and we are supposed to immediately love them? yeah that didn't work. I just didn't care. Cause if you are tossing aside characters, I now know not to form attachments.
-Boring long bits: As I said before, I enjoyed only about 250 pages total of this long 600+ page book. It could have used a healthy dose of editing. Like, a really healthy dose.
My last reason, it read like a whole different book rather than a sequel. And by that I mean I wish ACOTAR had been a standalone and that this book was a different series with different characters. Because it was so out of left field I can't even handle it right now.
***Bonus: random sex scenes. Coming from the romance junkie I am, I felt they didn't enhance the romance in the story in any way, it was just a weird animalistic bonus(?) thrown in. It didn't feel natural to the story for me. And considering this is published by a children's publisher and marketed towards teens, I was shocked at the graphic details.
Likes:
-The writing style: Sarah J Maas never fails to deliver an enchanting way with words. She's able to weave them in a beautiful way and I can always appreciate that from her as a writer.
-Rhys: To be completely honest, he's the only character I genuinely liked in this whole book. Everyone else is cannon fodder for all I care at this point. I love misunderstood heroes so he fit quite nicely into that category for me.
-The last 150 pages: this is what saved the book from being a complete 1 or 2 star rating for me. After a BORING bout of 300 pages, I finally found myself caring again about what happened to the characters. The last 150 pages also has me wanting to read the next book. Something I had given up on in the middle of this one.
Anyways, as always, I recommend you read this book and make up your own mind. Even though I didn't love it many others did, and I still love this author despite not loving this book.