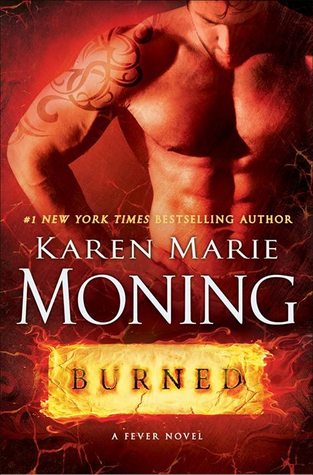 Burned by Karen Marie Moning
4.25 stars!
"Temptation isn't a sin that you triumph over once, completely and then you're free. Temptation slips into bed with you each night and helps you say your prayers. It wakes you in the morning with a friendly cup of coffee, and knows exactly how you take it."
Burned is the continuation of the Fever series. I'll warn you right now, if you haven't read the previous books in the series there will be spoilers in my review. That being said, my review should be spoiler free for those who have read the series.
With the exception of a previously free online short story at the beginning (which is necessary to read), Burned picks up where Iced left off. Dani and Mac are in a confrontation that has been waiting to come for a long time. Choices are made and consequences doled out, the future is changed forever for one of these two characters.
In the meantime, power struggles for control of the city ensue. Many characters feel they should be in charge or left alone in their own sectors. The issue of Christian needing rescueing is one on almost everyone's mind as well as aftereffects from the iced areas in the previous books leaving black holes.
"I want to tell her revenge is a devil you don't want to worship. In destroying your enemy you become it."
Well first things first I'm going to gripe a bit about something I knew but still am a bit miffed about: we no longer have Dani's POV. Even thought this was supposed to be the O'Malley series (that title is now changed back to Fever) we are given the perspective of Mac. Who I love, but she already had 5 books to herself. Give us back the Mega!!!! Grrr.
This book had less of a coherent plot than Iced did, it was a bit more political intrigue than set action and adventure but it was still enjoyable. Mac and Barrons are still together yet at odds. Mac is dealing with having the Book inside of her and the effects on her being. Mac's struggle for this book is mostly her struggles with the Book and past issues with Barrons that come to the forefront. There was a lot going on with side characters that I am intrigued to see develop in the next installment or so. Crossing my fingers for a new couple to ship so we will see.
Not much else to say. While a lot happened, not anything noteworthy happened, know what I mean? I definitely wish to see changes in certain characters in the next book and hope for a more solid plot to read. Otherwise I really enjoyed this installment in the series, but it seems as if its role is filler.
"You are what you are. Find a way to live with it."