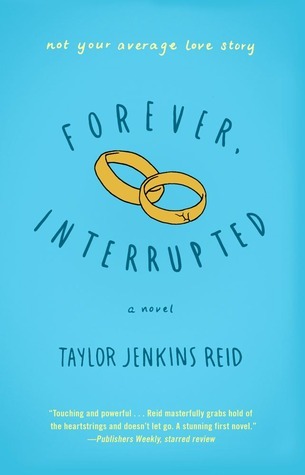 Forever Interrupted by Taylor Jenkins Reid
4.5 stars
"No matter how strong you are, no matter how smart you are or tough you can be, the world will find a way to break you. And when it does, the only thing you can do is hold on."
This book completely wrecked me, in a good way. I won't say this often but boy I was I glad I was single when I read this, because if I had been married, I feel like it would have been even tougher. But this book is so worth reading, like all of TJR's books, it's different from the typical chick lit/romance stories we normally read.
Elsie and Ben had a whirlwind romance, 6 months total and 9 days of being married when Ben dies suddenly in a tragic accident. Knowing he died the love of her life, no matter how much time they spent together, Elsie is a wreck. Then she meets Susan, her mother-in-law, a woman who had never even heard of Elsie until after she got the news her son had died. From here we flashes of the past and present, how Ben and Elsie fell in love, and how Elsie and Susan cope with him being gone.
"I'm just trying to tell you that your life will be very long with zigzags you can't imagine. You won't realize just how young you are until you aren't that young anymore."
I'd read two other books by this author so I knew I was in for something unconventional from this story, but I didn't expect to enjoy it so much. Since it's given away in the synopsis that Ben had died, I knew this would be a tough book to read at times. But despite that, I loved seeing Elsie and Ben falling in love. I was intrigued by the relationship between Susan and Elsie.
Most of all what was special about this book is the way it makes you think. How would you be treated if the one you loved died suddenly and no one in his life really knew you? Is it real love if it's in such a short amount of time? This journey that Elsie went through was so intense, and I just felt for her every step of the way, the happy moments and the devastating ones.
So, if you're up for a book unique from any other, I highly recommend this one. While it wasn't all puppies and rainbows it still had magic moments that made it exceptional.
"That is what true love is. True love is saying to someone 'Forget about us. We will be okay,' when it might not even be true, when the last thing you want is to be forgotten."