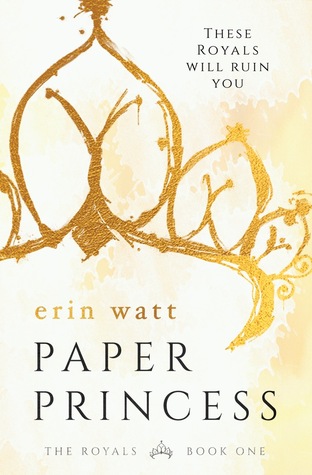 Paper Princess Q&A with Erin Watt (Jen Frederick) and Elle Kennedy!!
I got the greatest opportunity to ask Erin Watt (Jen Frederick) and Elle Kennedy questions about their upcoming release (which I LOVED)! For those of you curious about the book this is informative and fun. For those of you suffering from the massive hangover it leaves you with this may help sooth the burn.
1) Where did the idea for the book come from?
Well, we'd been exchanging emails about how much we wanted to write a teen soap opera, one thing led to another, and suddenly we had a whole series plotted out!
2) How did you two meet/when did you decide to start writing together?
Elle: We were pretty much acquaintances through the romance community until one day I asked Jen to beta read a book I'd written for fun. I needed an honest opinion, and I knew she wouldn't hesitate to give me one. After that, more and more emails were exchanged, our mutual love of football was discovered, and the rest is history. We were joking about writing something together for a while, but it didn't really come to be until we got into a discussion about cracky, soap opera romances and decided we both wanted to write one.
Jen: I've internet-known Elle for a long time. I started reading her back in 2009 and fell in love with her writing as the Out of Uniform series progressed. When she asked me to read The Deal, I was completely honored. After I read it, I couldn't wait for the world to have the same opportunity. Can you believe she considered not publishing it? What a travesty!
3) How did you divide up the writing between the two of you? 
Being so like-minded, we communicate really well, so we somehow plotted out an entire book without even really trying. Pages started flying back and forth, and we'd suddenly be shooting each other texts to bounce ideas. Usually one of us writes about 2000 words before stopping and passing the torch to the other person. And then during edits, we each take a pass and add/change/tweak so much that eventually we can't remember who wrote what.
4) What do you admire most about your co-author that you learned from this experience writing together?
Elle: Jen is very business-minded, so she's amazing at staying on task—and keeping me on task. If there's a job to do, it's getting done—Jen'll make sure of that! She's incredibly efficient, and half the time I fear she's going to break up with me because I'm so disorganized and hate business.
Jen: Elle is a master at pacing. I've learned so much while writing with her. She's really ruthless at the editing stage and I'm hoping to take that skill with me moving forward. And she's never getting rid of me!
5) What kind of snacks were necessary when writing this book?
Elle: There was definitely some chocolate involved! While writing this book, I went through all the same feels our readers experience, so yeah…lots of chocolate!
Jen: I always reward myself with a root beer during the editing process.
6) About how long did it take to write the book?
Two weeks. It just poured out of us and before we could blink, it was done LOL
Thanks for stopping by!! Be sure to one-click on April 4th! Or you can preorder the paperback here: http://amzn.to/1Rk05qk