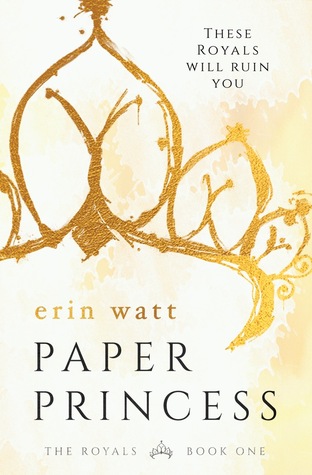 Paper Princess by Erin Watt and Elle Kennedy
5 stars
"No one wants to be ruined. We all want to be saved."
OMG OMG OMG OMG OMG
Where do I even start? Well obviously from my rating I absolutely loved this book. When I saw the blurb I was intrigued and immediately requested the arc. Plus Elle Kennedy is a co-author and she has NEVER let me down. I've loved everything I've read by her so far. I'm a bit new to Erin Watt (Jen Frederick) and haven't read any of her books, but I'll be sure to remedy that very soon.
Paper Princess is about a teenage girl named Ella, who after the passing of her mother has been living on her own. Deceiving her high school and working multiple jobs her only goal is to get a diploma so she can continue on to college. One day a man appears at her school, claiming to be a friend of her recently deceased father (a man she never knew) and saying he is now her legal guardian.
Ella is grudgingly taken to Callum Royal's home where she is to live. Callum makes a deal with her that she cannot refuse and a part of the agreement was for her to stay in his home with his five sons. Five sons who are not at all happy to see Ella. From rags to riches Ella does her best to catch her bearings and adjust to an entirely new life. But despite wanting to remain overlooked she is constantly hurdled into the attentions of her peers, and she can either take it, or fight back.
"No matter what Callum says or tried to do, I'm never going to be a Royal."
When I say I loved this book, it is an understatement. This is a book you stay up until 3am to finish and end up feeling tired but happy the next day because it was so worth it. There was not one moment when I was bored or wanted to skim, I was completely absorbed in it until the very end. I loved being in Ella's head and sharing her experiences with her. She's a strong female character who doesn't need or want saving, but in this book she realizes it doesn't hurt to accept help from others. Ella also recognizes the value in hard work and doesn't shirk away from jobs that others see as below themselves. She doesn't apologize for who she is either. I found her to be a very admirable character, refreshing from all of the weak heroines we see flooding the genre.
All of the Royal boys have me intrigued, I really hope that some get their own book (like Easton and the twins). There's so much going on and I would have loved the perspective of some of them while reading. Now Ella and Reed: my goodness someone get me a fan because their chemistry was off the charts!!!!
I am shipping these two so hard right now!!!! I loved them together, whether they were fighting or you know, other stuff. Good stuff 😉
"I can't decide what I like more. The calm Royal household with the voiceless Reed or the one where he's yelling at me to stay away and threatening me with his penis."
Anyway if you didn't get it by now I loved this book. This book has a very Tijan feel to it, and those who loved the Fallen Crest series will love this story. Warning! There is a very large cliffhanger at the end that I may need to join a support group to get over. But, I still think you should read this book despite the cliffhanger because I think it's totally worth it.
And I do want to clarify, while this book is about high school students/young adults, it is not a young adult book due to language and adult content. So don't be handing it to a sixteen year old to read. Save it for when they hit college and hand it to them then.
ARC kindly provided by authors in exchange for an honest review