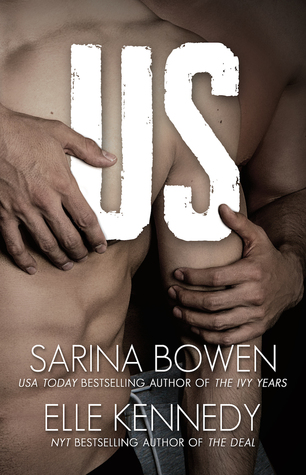 Us by Sarina Bowen and Elle Kennedy
4 stars
Us is the highly anticipated sequel to the book Him by two of my favorite authors. After two childhood friends reconnected and fell in love, Wes and Jamie are living together in Canada pursuing their dreams. Wes is playing for an NHL team and Jamie is coaching a youth hockey team. Wes's schedule is rough on them both, he's constantly traveling at away games and Jamie is often left behind due to his own job commitments.
On top of the crazy schedule, Wes and Jamie aren't really "out" yet. There's never been an openly gay member of the NHL before and Wes doesn't know how it would affect his career. Adding even more fuel to the fire, a teammate of Wes moved into the building and is CONSTANTLY around, meaning even less boyfriend together time for Jamie and Wes. To make matters worse (yes there's even more) poor Jamie is having a hard time at his job, but has trouble discussing this with Wes. So basically this sequel proves that not everyone can ride off into the sunset and have everything be rainbows forever and ever.
Within the last two years or so, both Sarina Bowen and Elle Kennedy have become some of my favorites authors, separate and together in their writing. Whenever I read one of their books it flows and is effortless, I never find myself putting the book down to do other things. Us was the same way I read it straight through. While I preferred the angst of friends to lovers in the first book, I still enjoyed this follow up and the trials and tribulations Jamie and Wes went through.
All of the issues mentioned above, it seemed impossible that all would be resolved but actually the authors pulled it off. Even if it wasn't because the characters were motivated and it was actually external forces. To me this felt like the characters were forced into decisions instead of making them on their own because of genuine want. I also wanted to smack both of the guys for being oblivious of each other and for keeping so many secrets.
I did love the introduction of a possible love story between Jamie's sister and Wes's teammate. Is that going to happen? Pretty please? Don't care how, I want it now!!
ARC kindly provided by authors in exchange for an honest review