Happily Ever Ninja by Penny Reid
5 badass mother stars!!!
I gotta say, Penny Reid continues to deliver a different kind of heroine to the romance genre. And every single one of them is incredible! Fiona was a heroine that I've never seen before and I fell in love with her almost immediately. Seriously, I have a girl crush on her (the kind where you idolize, not attraction lol). How many romances have you read that contain a badass mother who balances a job, kids and more? Other than this one I couldn't name another title.
"Someone needs to appreciate Fiona for her badass skills, Greg. Because they are fucking awesome."
Greg and Fiona were college sweethearts and have been married for about fourteen years. Greg works in Africa on oil projects while Fiona stays at home in Chicago and watches the kids and works. It's a difficult situation but the two of them make it work. When Fiona learns that Greg has been kidnapped and held for ransom, she takes it upon herself to go after him and get him back.
If you've read the previous books in this series, you know that Fiona used to be a member of the CIA. So the idea of her going off to rescue her man wasn't at all preposterous, in fact it was pretty much expected. And with the help of her friends she's able to sneak into Africa.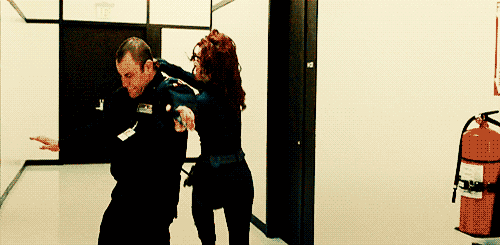 I loved this book. Seriously. I'm not a mother, I'm not a wife, and yet I was easily able to relate to Fiona and her struggles and issues. And just because the characters were already married, doesn't mean that the romance factor isn't present in this book. In a way it enhanced it because we know these two people are in love, and watching them fight for their love was every bit as romantic as watching a couple fall in love.
There's also the distinctive brand of Penny Reid humor we come to expect from her books, it's one of the things that make her books so special. I laughed a lot while reading this book, it never failed to put a smile on my face. Greg and Fiona have this wonderful banter that makes me want to hug them both, but not interrupt them so as I can continue to watch them banter.
"I need you to clean the apartment, and pick up your goddamn socks, and stop making mindless messes-like we have magical cleaning fairies who orgasm every time they do the laundry."
Separate from the story, my all-time favorite part of this book was the letters and notes at the beginning of each chapter from real life couples. Some of them made me laugh, some smile and others made my heart flutter. It was such a nice touch that added a lot to the book. I found myself wanting to highlight the letter before every chapter I loved them so much.
Every Penny Reid book I've read I have loved or enjoyed. I think it goes without saying now that she could write anything and I would love it. Even a description of paint drying on walls.
"My heart keeps discovering new ways to love you."
ARC kindly provided by author in exchange for an honest review