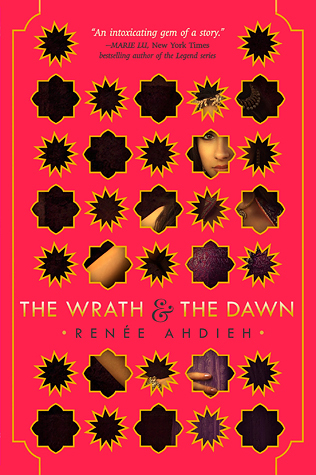 The Wrath and the Dawn by Renee Ahdieh
4 stars!
"What are you doing to me, you plague of a girl?" he whispered.
"If I'm a plague, then you should keep your distance, unless you plan on being destroyed." The weapons still in her grasp, she shoved against his chest.
"No." His hands dropped to her waist. "Destroy me."
A retelling of 1001 arabian nights, The Wrath and the Dawn is the story of Shahrzad. Shahrzad volunteers to be one of the many wives of the king, knowing the risk that by the morning after her wedding she will be dead. But she volunteered as a part of a plan of vengeance, for her best friend was one of the many brides murdered by her King. She survives the first night by enrapturing the king with a story until dawn, and she lives to see another day. As the days pass she begins to learn there is more to this story than she knows, and more dangers afoot.
"You have a beautiful laugh. Like the promise of tomorrow."
I've seen lots of reviews being tossed around for this book, and it was a finalist in the Goodreads choice awards so I decided to give it a chance. What I found was a unique story and a strong heroine, alongside a fresh take on the beloved story of 1001 nights. There were parts that were a bit slow/confusing, hence four stars and not five, but ultimately this book captured my attention and didn't let go until I was done.
I kept reading because I had to know what came next, ever unsure of where the story would lead me. I hope the wait for the next book isn't too long so I can read it right away! There were lots of unanswered questions at the end of this book and I need to know what happens next! Bravo to Renee Ahdieh for this story, and for a writing style that captivates and entertains the reader throughout the entire story.
"There is no one I would rather see the sunrise with than you."