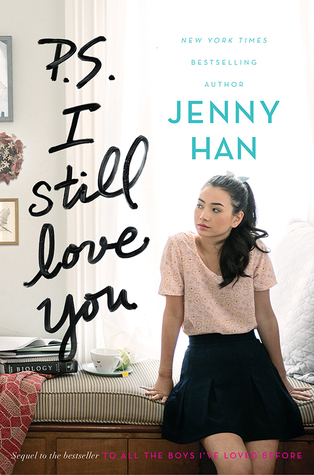 P. S. I Still Love You by Jenny Han
3.5 stars!
"People come in and out of your life. For a time they are your world; they are everything. And then one day they're not. There's no telling how long you will have them near."
First things first. Peter!!!
Yeah, I said it. My book boyfriend Peter from the first book became a total dick in the second one!!! I wanted to smack him the majority of this book!
P. S. I Still Love You is the continuation/sequel of the book To All the Boys I've Loved before. In this book Peter and Lara Jean decide to have a real relationship instead of a fake one. It's all fine and dandy until Peter keeps spending time with his ex=girlfriend, and tells Lara Jean they are just friends. Also a boy from Lara Jean's past comes back into the present, and his interest in her is very clear.
"There's a Korean word my grandma taught me. It's called jung. It's the connection between two people that can't be severed, even when love turns to hate. You still have those old feelings for them; you can't ever completely shake them loose of you; you will always have tenderness in your heart for them."
So despite the author's destruction of my beloved Peter, I still thoroughly enjoyed this book. I loved getting more of Lara Jean and her family, their fun times and hardships. There was also a lot of angst in this book, which my followers know I gobble up like candy so that was a major plus! I just wish the book had a better resolution, lots of plot holes left open.
I loved the introduction of the new love interest John. He was such a golden boy, and it worked perfectly for Lara Jean. I wasn't exactly rooting for him, but there was a small part of me that was kind of rooting for him at the same time. I shipped both couples in this book basically.
Overall a very cute book, like the first one. I'm not much for YA contemporary romance but these two companion books exceeded my expectations and were a nice escape from reality for a bit.
I wouldn't be opposed to a third book Ms. Han!!! Just putting it out there.
"I know now that I don't want to love or be loved in half measures. I want it all, and to have it all, you have to risk it all."