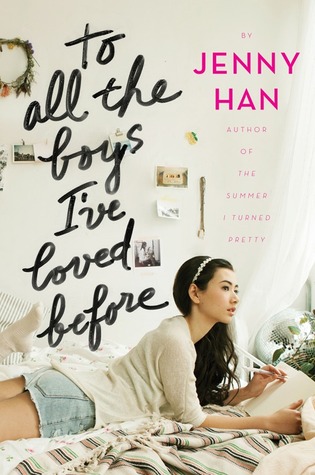 To All the Boys I've Loved Before by Jenny Han
4 stars
GUYS! THIS WAS A SUPER CUTE BOOK!!!!
"Life doesn't have to be so planned. Just roll with it and let it happen."
Lara Jean has written 5 letters for all of the boys she has "loved". She keeps them in her room, never intending them to be sent until the day the unthinkable happens, someone sends them. Now Lara Jean finds herself confronted with the boys from her past, namely two boys becoming more present. Josh, her sisters exboyfriend, and Peter the popular boy in school.
In an effort to save face around her sister's ex, and for Peter to make his own ex jealous, Lara Jean and Peter decide to pretend to date. But as time goes by, the lines become blurred and Lara Jean finds herself confused about the two boys in her life.
"You'd rather make up a fantasy version of somebody in your head than be with a real person."
The title of this book is a little bit deceiving because while the letters were sent out, they really only affected two of the boys who received them. Hence a small love triangle is formed fill with unrequited love and angst. Which was just perfect for me! I personally am shipping Lara Jean and Peter, Josh had his chance! Plus he dated her sister, not cool to jump between them. My favorite character surprisingly was Kitty, Lara's youngest sister. She had so much snark and spunk I laughed and chuckled almost every time she came up.
I'd never read Jenny Han before this book and I can honestly say I would read a lot more by her. Her writing is fresh, sweet and fun and perfect for when you want a good book that is light but hits the important emotions at the same time. It's always fun to discover a new author because then there is a whole new set of books to devour.
Warning, this book doesn't end on a cliffhanger but there isn't a resolution. So have the next book ready! I'm glad I do!
"I don't have to be so afraid of good-bye, because good-bye doesn't have to be forever."