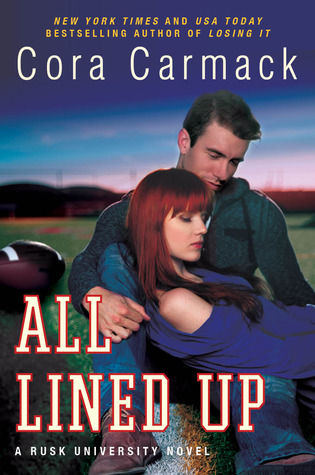 All Lined Up by Cora Carmack
2.75-3 stars
"God, do they make WD-40 for flirting? Because I am rusty."
All Lined Up is the story of Dallas, a dance major and Carson, a football player. Both meet at a college party, Dallas not knowing Carson is on the team, and Carson not knowing that Dallas is the daughter of his new football coach. They begin to spend time together, forming a friendship but holding romantic feelings for each other at the same time.
"I don't know that dancing fixes anything. I don't feel magically happy because of it. My problems don't disappear when the music ends. But I understand life better when I dance, and understanding is half the fight of surviving."
Rusk University is a series I've been meaning to read, and now that three books are out I decided to dive in. Plus my local library has it, and who can deny a free book? This was more like a YA story than an NA one. Yes it was a little bit more racy than a YA book, but barely. I found I couldn't really relate to either of the characters in this book and maybe that's why I didn't love it. Regardless the story in this fell flat for me. I kind of liked it, but I wasn't invested in it, or in what would happen to the characters.
Cora's other series I rated in this order:
Losing It: 3 stars
Faking It: 4 stars
Finding It: 5 stars
So based on the above written I am totally willing to keep reading this series, as this author has proven I can like, really like, and love her work.
"I've spent too much time pretending, too much time on the outside, too much time feeling spineless. This time… I'm going after what I want."