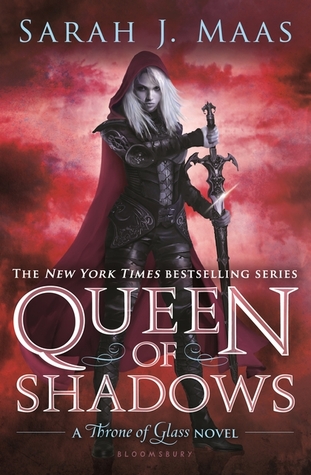 Queen of Shadows (#4) by Sarah J Maas
ALL THE STARS!!!
"She was fire, and light, and ash, and embers. She was Aelin Fireheart, and she bowed for no one and nothing, save the crown that was hers by blood and survival and triumph."
OMG THE FEELS!!! Fuck. I need the next book like right now.
***So this is my warning, if you haven't read the series yet, DO NOT READ THIS REVIEW! I will not be spoiling anything from this book, but I will be discussing points from previous books in the series. ***
Our players:
Aelin returns to the city she fled in book 2, looking to reclaim her throne. Many obstacles stand in the way, such as The King, the leader of all assassins and even someone she once considered friend. Aelin hatches a plan to deal with all of these things, and it unfolds elegantly as you read through the book.
Rowan follows his queen to her new city once he discovers a threat is coming for Aelin. Without magic and in a new city, he does his best to protect Aelin, even from himself.
Chaol is still filled with regret for leaving Dorian behind, it haunts him every single day. Working with a secret army he does his best to fight off the ever growing demon possessed army that the king raises. His self-loathing grows stronger and he takes it out on those around him.
Aedion awaits his execution, hoping to die beforehand. (I won't say more because spoilers!)
Dorian is possessed by a demon, not sure of who he is anymore. He tried to remember but is constantly beat down by the creature controlling him.
Lysandra is a new player. Once an enemy of Celeana, she is now an ally of Aelin. Together they work towards a common goal and maintain a tentative friendship in the meantime.
"Sometimes there won't be a right choice, just the best of several bad options."
This is the book hitting me with feels:

This book actually started out slow for me and I put it down at one point in September. I wanted to be in the right mood to read it so I waited a bit before picking up where I left off and I am glad I did this. I can honestly say that this is one of my all-time favorite series, its epicness is unrivaled by other books. As I discussed with one of my book friends Jasmine, Aelin is a freaking badass and just gets even more badass the more you read.
There are so many wonderful things I want to say about this book, it has it all. Amazing plot with unexpected twists, characters that feel like real people and who I want to be friends with, beautiful writing, fantastic scenery and vision. This book and series has it all!!!
"If you're a monster, I'm a monster."
Not to mention all of the relationships and potential ones. I am constantly shipping every potential relationship, new and old. And all 4 prominent men I want to be my book boyfriends, husbands, lovers, I don't care. I just want them. It's as simple as that. But let's just say I have a THEORY that one of them will be killed and I will be furious if my theory comes true. FURIOUS. So Sarah, take pity on me and do not kill this character!!
Seriously Sarah J Maas, don't do this to me —->

I have to say this is a series that will stand the test of time. It's rereadable, it's beautiful, it's emotional and it's perfect. I don't care what your preferred genres to read are, I honestly think everyone can read this series and love it. So friends and followers, PICK UP THIS SERIES!!!
"You make me want to live, Rowan. Not survive; not exist. Live."