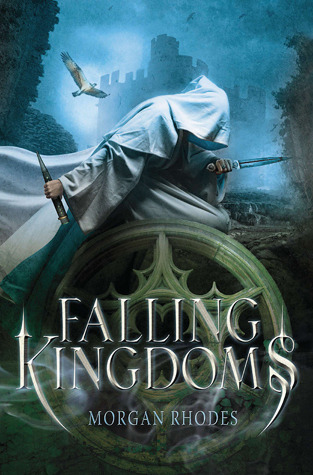 Falling Kingdoms by Morgan Rhodes
4.25 stars!
"Even paradise could become a prison if one had enough time to take notice of the walls."
So basically this was my face throughout most of this book:

It's easy to call this book the young adult Game of Thrones. The obvious similarities are the conflicting royal families and unexpected and frequent deaths throughout the book. Except there aren't as many families in this book and because it's young adult it's a bit lighter in its themes.
When the Royal Princess Cleo visits a neighboring country with friends, what was meant to be a lighthearted wine trip turns into a nightmare, and inciting a political disaster and turning allies against each other. Now three countries are preparing for the worst, some for defense and others in offense. Choices are made and many are killed in the fight for power and survival.
"Even in the darkest and most cruel person, there is still a kernel of good. And within the most perfect champion, there is darkness. The question is, will one give in to the dark or the light? It's something we decide with every choice we make, every day that we exist. What might not be evil to you could be evil to someone else. Knowing this makes us powerful even without magic."
There are four main characters in this book: Jonas, Cleo, Magnus and Lucia.
-Jonas thirsts for revenge after watching his brother unjustly murdered. Honestly most of the time I found him a wee bit annoying, but I feel like he will be less so in the upcoming books based on his actions and thoughts near the end of this book.
-Cleo finds herself wound in a political web where she is used as a pawn for more power. Cleo isn't terribly strong for the majority of the book. In fact she messes up a lot but she does grow as a character and does her best to fight for those she loves while facing many challenges.
-Magnus also known as the book boyfriend to me, Christine and Jasmine (just kidding ladies, I know I have least amount of claim on him). Magnus is the son of the king, and he hates his father. The only person he truly loves is his younger sister, Lucia. Magnus constantly finds himself at odds with what is expected of him, and what is morally right.
-Lucia is a princess with a secret, and it's a secret that can change everyone's lives.
"You're the same as you were yesterday and the day before. Nothing has changed. Not really. Forget what troubles you. Regret nothing, but learn from any mistakes you make. Tomorrow will be a brighter day, I promise."
So the only character I truly loved in this book was Magnus. That man makes my heart bleed for him in almost every scene. The other characters I like but kind of want to smack them some of the time. Basically I really enjoyed this book for the plot, but to me the characters needed a wee bit more development for my personal reading tastes. I cannot wait to jump into book 2 and see what happens next.
"You must continue to believe with all your heart. Sometimes belief is all if takes to make something real."