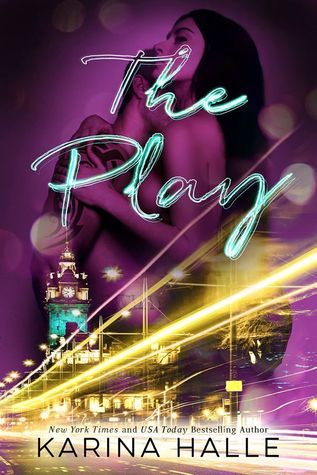 The Play by Karina Halle
4.5 stars!
"Even if you lose love, it's never really gone. It stays in you forever. The risks of love are always worth it."
Going into a Karina Halle book I always know one thing for sure, that she's going to rip me apart with feels. This book lived up to that reputation and had me crying during the prologue!!
Kayla has put a ban on sex in her life, not longer satisfied with random hookups and looking for something more from a relationship. When she meets Lachlan, adopted cousin of Linden and Bram from the previous books, she's ready to throw her new placed ban up in the air for the hot rugby star. Lachlan on the other hand doesn't seem at all interested in Kayla. When Bram asks Kayla to do an article on his charity, it requires Kayla to interview Lachlan for the cause.
The first time Kayla interviews Lachlan, it's a disaster. Luckily he agrees to another one. This time, Kayla and Lachlan get on better, leading to an understanding of each other never felt by them before. From there the two get to know each other, but they have a deadline as Lachlan leaves for his home in Scotland in a matter of weeks.
"Tell me what you want, love," I tell her, my voice rough with lust. "Tell me what you want and I'll give you what I have."
Kayla and Lachlan are probably one of my favorite book couples by Halle. Both characters are misunderstood by their friends and loved ones, and only seen for what they are on the surface. Both long for a deeper connection with another person, but there are several factors holding them back. Lachlan has trauma stemming from his childhood abandonment and time in foster care. Kayla is scared she will never find the love of her life, the kind of love her parents had.
"Kayla…you're my girl. You're my beautiful world. And I'm whatever you want me to be, just as long as you know that I have never, ever felt this way about someone in my entire life." He lowers his face, eyes focused intently on my lips. "I'm losing myself in you. Every day. And it's the most wonderful, terrifying feeling in the world.
While this book was indeed longer than most of the books this author writes, I couldn't put it down. I wanted to know more and more about these characters with every page I read. I swear these two people were so perfect for each other despite their differences. Lachlan, oh Lachlan. Talk about a man to swoon over. His compassion for animals alone is enough to give me a lady boner, but on top of that I thought he was an amazing man. His everyday struggle to overcome his demons is admirable, and in return he only wanted to be accepted for who he was by those he loved.
If you are looking for a beautiful emotional read, this book is for you. I highly recommend this book!
"I can see all your cracks and your darkness and your flaws and I fall in love with it all. And I hope you can fall in love with everything that I am, all that lurks in my dark, all that shines in my light. I want you to love every little piece of me, because it all belongs to you."