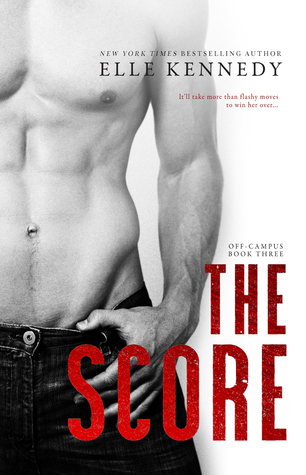 The Score by Elle Kennedy
5 stars!
You know the book is a winner when you have a smile on your face the entire time you're reading it. Considering I have loved every Elle Kennedy book I've read, I knew going into this book it would be a good read. What I didn't know is that I would freaking love this book. I need to get my hands on a paperback copy so I can hug it very tightly!
The Score begins with Allie having just broken up with her boyfriend. Knowing how easily he can worm his way back into her life, she asks her friends for sanctuary and her friend's boyfriend Garrett offers Allie his place for the weekend while they're gone. Allie runs over to his place to find his roommate Dean there, the campus manwhore. The two hang out for the night and something happens between them. But in the light of day Allie doesn't want to continue and Dean wants more.
Well I don't want to get all spoilery and tell the entire plot, so I will do my best to keep this review spoiler free like the author requested. I will say I literally laughed out loud while reading this book, many many times. Especially a certain bathtub scene that some of you have come to know and love. The banter between Dean and Allie was my favorite part about this whole book, they kept each other on their toes.
I also loved how for Dean and Allie they didn't expect anything from the other, and in return they both ended up needing each other for different reasons. Dean may have had a playboy exterior, but beneath that façade he was so much more, and Allie was the one to see past it and accept Dean for the wonderful man he was. Dean and Allie are one of my favorite book couples, I think they are perfect together.
I gotta say, Elle Kennedy continues to impress and she is an author who I will forever read and recommend. If you haven't read anything by her yet, get on it!!
ARC kindly provided by author in exchange for an honest review