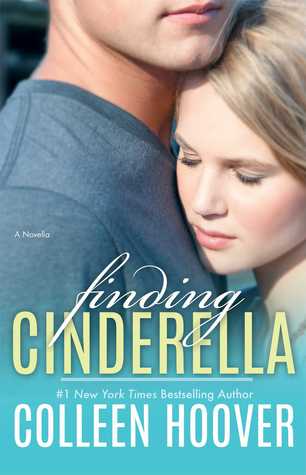 Finding Cinderella by Colleen Hoover
Screw it, this book made me smile the entire time so it gets 5 stars!
"I don't even know if people should use the working fucking and angel in the same thought structure, but shit. She really looks like a fucking angel.."
There's something about Colleen Hoover novellas, I tend to love them more than her full length novels. Which is so rare because most of the time novellas don't have enough. But this book in its entirety and shortness made me fall in love with it.
Finding Cinderella is about Holder's best friend Daniel. After a chance encounter in a closet in school, Daniel met and lost his dream girl without ever seeing her face. A year later, and a failed drama filled relationship later, Daniel is introduced to Sky's friend Six who has returned from Italy after a year abroad. The two have an instant chemistry and begin dating, but both have secrets than can be deal breakers for the other.
"I can't take you tonight. I had my heart completely broken about an hour ago by a psychotic bitch and I need a little more time to recover from that relationship. How about tomorrow night?"
I'm glad I read this right after reading Losing Hope, that book is definitely meant to be read before reading this one. Yes this book is a standalone, but you gain a lot more by reading the other two books first. I loved reading Six and Daniel's book, I had a gigantic smile on my face the entire time. I loved both characters and their unconventional romance.
Leave it to Colleen Hoover to write a funny book and one packed with all the feels at the same time. I found myself rooting for this couple from the very beginning and would love to see more of them in the future. If you need something light and something that will make you happy, this is the book for you.
"It blows my mind that I get to love you."