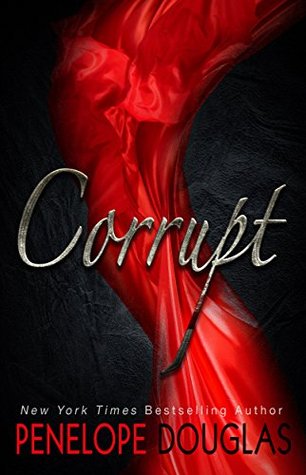 Corrupt by Penelope Douglas
4.5 stars!
"When you want to make an impression and you think you've gone far enough, go a little further. Always leave them wondering if you're just a little bit crazy, and people will never fuck with you again."
So I've been trying to gather my thoughts on this book a couple days after reading it, and all I really still have to say is I loved it. Seriously. It was dark, there was angst, holy shit that sauna scene, need I say more?
Well I will anyways. Rika has always had a crush on her "boyfriends" brother Michael. He's older than her and mysterious. Rika thought they had a connection a few years back, but after one day he didn't speak to her. Now three years later Rika has moved into the same city as Michael, and he's ready for her.
Three years before Michael's best friends went to jail because of her, and now they're out and ready for revenge.
"Those who are patient, plan. And beware the man with a plan."
So, like I said before, I loved this book. I stayed up until 3 am one night reading it and then woke up early the next to finish it. I loved Rika and Michael's story, I was enraptured from the first page and it held my attention until the very end. I really hope Penelope Douglas writes more in this universe.
I was creeped out from the beginning and honestly that sauna scene still has me fanning my face. You'll know it when you read it. Those who have read it already know.
Also, Kai is my book boyfriend. MINE. Not yours. I will cut a bitch if someone tries to take him from me.
My one teeny tiny little issue with the book, I think one of the characters forgave too easily. But this always happens in PD's books and is the only issue I ever have with her books. It's minor though, but it might irk others.
"And from Michael—as well as Damon, Will, and Kai—I learned to breathe fire. I learned to walk as if the path were carved for me and me alone, and to treat the world as if it should know I was coming."