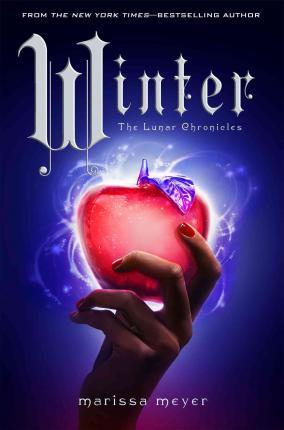 Winter (The Lunar Chronicles #4) by Marissa Meyer
3.5 stars!
First off I want to give Marissa Meyer a high five for a fantastic YA fantasy series.
Rarely would you ever pitch Cinderella with androids and have me be at all interested, but this series was the exception. Now the wait for this last book:
Just kidding. It was only 2 years. But still that felt like forever. Going into this book I had a hard time remembering what had gone down in Cress, and I also didn't read Fairest (I have no interest in Levana's story) so I read some of the lovely reviews on Goodreads of Cress to refresh my memory and it helped.
Winter begins with all of the characters in a bind. Kai is with Cinder's crew and Scarlet is trapped on Lunar under Winter's protection. The goal is to go to Lunar, sneak in and overthrow Levana as Queen and put Cinder in as the rightful Princess Selene.
I don't want to be any more specific as to not give away any spoilers. But there is 800 pages in this book so a lot happens. I really enjoyed this book even though it took me 6 days to read (give me a break it's 800 pages!!!). Meyer's writing flows really well and I couldn't put the book down.
So why not a perfect 5 stars? Well, while I enjoyed the book I honestly thought it was way too long with a crap ton of build up and then a super fast and somewhat unsatisfying ending. Lots of issues presented throughout the book were not resolved and considering this book was as I already said, 800 pages, I feel like some things could have been cut out and these issues resolved instead. I won't post them because they contain spoilers, but I will say it involves Cress, Thorne, Winter, Jacin, Cinder, Kai and Wolfe. Basically everyone but Scarlet. I need more clarification on their endings instead of the "happily ever after" at the end. (my GR friend Jessica presented a lot of these issues in her review so I recommend reading her review for specifics).
I did have the opportunity of meeting Meyer on her Winter tour and I loved the tale of Snow White she told us. As I was reading Winter I could see where lots of her inspirations came from when she told us Snow White, so it did enhance my reading experience and made it a little bit more fun.
Lastly, my favorite couples from the series in favorite order:
-Scarlet and Wolfe
-Cress and Thorne
-Cinder and Kai
-Winter and Jacin (sorry ladies, he was a dick most of the time).
On that note I highly recommend this series if you haven't read it despite my nit-pickings above. I can also say Meyer is one of those authors whom I will read anything she comes out with.
I know this isn't my best review. I tried 😛