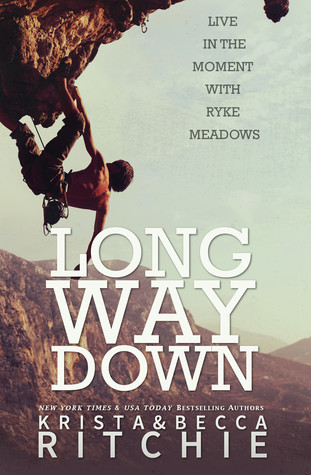 Long Way Down (Calloway Sisters, #4; Addicted, #3.2) by Krista and Becca Ritchie
5 stars
"I have this theory…"
Well, the series is over. And what better way to end it than with my favorite couple! Raisy. So basically I was super emotional while reading this book, not only for the content but what it represented to those of us in the Fizzle Force.
Warning! This will be less like a review and more like a fangirl gush about an entire series.
Long Way Down is the story of Ryke and Daisy, who have been officially dating for two years now. With a six year age gap between them, they have faced many obstacles in their relationship, and they continue to face more. Both Ryke and Daisy, along with their families and friends remain very much in the public eye and it places burdens on them and their families. Daisy still struggles with her PTSD and Ryke with his issues with his father. But together, the six of them can face anything and together they will not break.
"Relationships that take the most effort and the most time become the most mightiest, most resilient bonds in the end."
I don't want to say much because spoilers and all, but I will say that this book broke my heart and then put it back together again. The Ritchie twins are the masters of feels and have proven yet again what amazing authors they are.
I laughed, I cried, and by the end of this book I was fulfilled. It really does feel like the end of an era. I can still remember reading the first book and waiting for Ricochet to be released. I may not have reviewed the books from the beginning, but I've been a fan from the very start and this series will always have a special place in my heart.
So a gigantic thanks to Krista and Becca Ritchie, you ladies have brought us characters that will forever feel like family. Thank you ♥
"We deserve better. We deserve happiness. As sisters. And as friends."