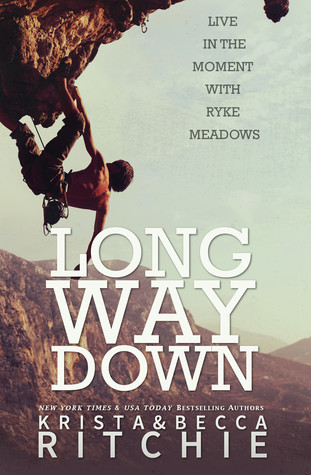 Long Way Down Blog Tour!!!
Title: Long Way Down
Authors: Krista & Becca Ritchie
Series: Calloway Sisters #4
Pub Date: November 20th, 2015
Goodreads: https://www.goodreads.com/book/show/22024907-long-way-down
Amazon: Purchase links not available until November 20th
SUMMARY
With a seven-year age difference, Ryke & Daisy have faced an uphill battle in the eyes of the world and their families. Known as the most adventurous, fast-paced couple — their next step has always been elusive to the rabid media.
Behind the scenes, heartbreaking troubles continue to test Ryke & Daisy's resilience and shape their future together.
They promise:
To never slow down.
To never compromise who they are.
To never abandon their love for each other.
But preserving their happiness also means adding more risks. Ones that Connor Cobalt wouldn't even take. As a professional free-solo climber, Ryke is no stranger to risk, but his next step with Daisy wagers more than just his health.
With their lives on the line, Ryke & Daisy head towards the vast, wild unknown in this epic final conclusion to the Addicted series.
Long Way Down – Excerpt #2 – Ryke's POV
Lo gives me a weird look, like I've grown a fucking antenna in the middle of my forehead.
"What?" I ask.
"You're breathing like you've smoked five packs of Camels." He touches his chest. "I know I'm in much better shape than you, but we only ran five miles. I've seen you run twice that without dry heaving."
"I'm not dry heaving."
"Whatever, man. You're doing this breathing thing." He mimics me, sounding like a beached whale.
I flip him off.
He mimes catching and pocketing it. "Thanks. I needed a fuck you for later."
AUTHOR BIOS
Krista & Becca Ritchie are New York Times and USA Today bestselling authors and identical twins—one a science nerd, the other a comic book geek—but with their shared passion for writing, they combined their mental powers as kids and have never stopped telling stories. Now in their early twenties, they write about other twenty-somethings navigating through life, college, and romance. They love superheroes, flawed characters, and soul mate love.
AUTHOR LINKS
Website: http://kbritchie.com/
Facebook: https://www.facebook.com/kbritchie
Twitter: https://twitter.com/KBRitchie
Tumblr: http://kbmritchie.tumblr.com/
GIVEAWAY LINK
5 – $20 Amazon Gift Cards
3 – Signed Paperbacks of LONG WAY DOWN
http://www.rafflecopter.com/rafl/display/4ffe7717134/?