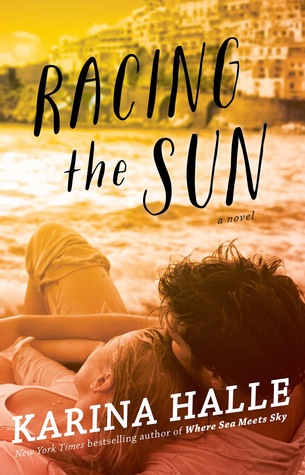 Racing the Sun by Karina Halle
5 stars!
"When I'm traveling, I feel like the secret to my life, to myself, to really becoming, is one step ahead. It's in the next destination, the next town I get lost in, the next stranger I talk to. It's always next but never here. But when I go home, back to the way things used to be, there is no next. It's all over. The wonder and hope are gone.
I like having hope. And I hope I find what I'm looking for."
This book reminded me of why I love Karina Halle's books so much. After being in the minority and not loving the previous book in this series Where Sea Meets Sky, I was hesitant going into this book. But the book before must have been just a fluke for me because this book was freaking incredible. There's a reason Halle is one of my favorite authors, and it's as simple as I love her books.
Racing the Sun is about American girl Amber who has spent the last few months traveling the world. When she arrives on the Amalfi Coast she's broke, and she doesn't have enough money to buy a plane ticket home. Amber searches for a job and finds one teaching English to two young children. The job relocates Amber to the island of Capri where she is working with seven year old twins who are being raised by their older brother Derio.
Derio…. is kind of a jerk. A former motorcycle racer, Derio is now a drunken shut in who won't leave the island of Capri. At first teaching the children is a struggle for Amber. But as time passes they form a bond and they worm a place into her heart. Amber's responsibilities slowly begin to change into that of a nanny, and soon the four of them start spending more of them together. And as more time goes by feelings develop between Amber and Derio.
This was a book I couldn't put down. It actually reminded me of a combo of The Sound of Music and Beauty and the Beast but in Italy. There were so many real life things I was supposed to be doing instead of reading this book but it captured my attention and my heart and didn't let go until I read the final page. A part of me really identifies with Amber, having a somewhat useless degree and not being able to get a real job with it. Traveling the world in hopes of finding herself and what she wants to do with her life.
The relationship with Amber and the children was really sweet, enough to make anyones ovaries hurt a little. While it wasn't always sunshine and rainbows, Amber did her best to be a good adult figure to them but at the same time she struggled with the fact that they weren't her children. I felt that most of the time Derio needed to step up more as a guardian to these children and it was a bit frustrating when he didn't.
The island of Capri is just as much a character in this book as the people in it. I know the author traveled there for research and she did an amazing job setting the story. While reading I felt as if I was on the island of Capri the entire time myself. This was the perfect setting for this book (even though in the trip vote, I voted for Prague lol).
I loved the romance between Derio and Amber. I've never been one for the whole Italian romance genre, but Halle may have converted me. Derio was such a passionate individual and when he loved something he went at it with his whole heart. His confidence in their relationship is what made it so wonderful and believable instead of just a fairy tale romance in a book.
Filled with angst and intense love, I highly recommend this book to all of you romance lovers out there. And this book can be read as a standalone; I am not one to encourage that but it really reads like a separate book on its own.