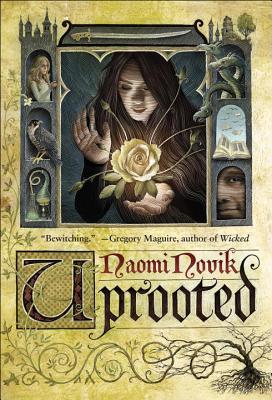 Uprooted by Naomi Novik
3 stars
Once every ten years the Dragon comes and takes the most beautiful girl to serve him. All her life Agnieszka knew the Dragon would come for her best friend Kasia and she hated him for it. But on the night he picks a girl, he chooses Agnieszka instead. She is taken to his tower where she learns she is a witch and has an indefinable type of magic different from other wizards.
The Dragon seeks to defeat the dark power that is the Wood, which corrupts the land and the people around it. When Agnieszka loses her friend to creatures of the Wood, her rescue mission leads to a domino effect of consequences to the entire kingdom.
This book started out very strong for me and I enjoyed it immensely until about halfway. While the author has a beautiful writing style with lavish descriptions, this book could have shaved off about 100 pages in my opinion. It went on too long and I had to force myself to continue reading. Novik's strengths lay in her descriptive writing but there was very little to no character development which killed me. The characters were merely there as a means to help the plot of the Wood along.
I really liked the concept of this book, with the creepy idea of the Wood and it being a conscious and evil presence, but I felt the focus was all on that. I could not tell you one detailed thing about Agnieszka except she has magic, is always untidy and is a good friend. A lot of character emotion was missing from this book.
Overall, I enjoyed this story. It's incredibly unique and disturbing and the writing captures the readers attention, but my tastes fall more for a character driven book than a plot one.