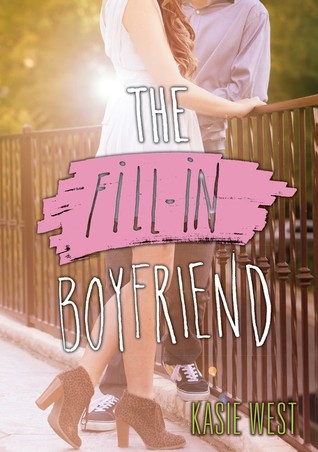 The Fill-In Boyfriend by Kasie West
3.75 super cute stars!!
"Chin up. There are other fish in the sea. It's a big ocean. Sometimes we need to catch and release a few before we find the keeper."
First off I mostly read this book because of Chelsea's review so if you are on the fence about reading this, her review will convince ya.
On prom night Gia is dumped by her boyfriend. In the parking lot beforehand. Faced with telling her friends that he isn't there, when they already don't believe Bradley exists having never seen nor met him before. Gia finds a guy in the parking lot and begs him to pretend to be Bradley. He agrees and helps her out, before not telling her his name and disappearing.
But now Gia can't get Fill-in-Bradley out of her head, and her one connection to him is not thrilled to help out. On top of this, Gia seems to be going through a self realization, and she might not like the person she's become.
"We rarely find a depth by looking inside of ourselves for it. Depth is found in what we can learn from the people and things around us. Everyone, everything, has a story, Gia. When you learn those stories, you learn experiences that fill you up, that expand your understanding. You add layers to your soul."
Kasie West is like Sarah Dessen and Simone Elkeles mashed together, but better. There's just something about her young adult books that are so much fun and the perfect escape. West adds a level of depth that is missing from most contemporary teen novels. Yes this book was a romance, but it was more. It was a journey of self-discovery. It was a girl discovering that because her parents never held her accountable for her actions, she became a shallow selfish person. It also portrayed what a majority of high school friends are, someone you are friends with out of circumstantial necessity.
Fill-in-Bradley was such a great guy, you really felt for him and his situation with his horrid ex and terrible friends. The friendship and relationship built between FIB and Gia was cute and adorable with a little bit of angst thrown in. The only thing I really didn't like about this book was the resolution, it felt unresolved.
Highly recommend if you like YA sweet reads. Sweet isn't normally my thing, so I'm glad I took a chance.
"Hayden?"
"Yes,Gia?"
"Nothing I just wanted to say your name."