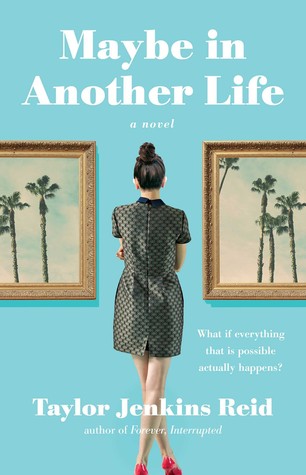 Maybe in Another Life by Taylor Jenkins Reid
4 stars!
"There is a larger plan out there. Everything happens for a reason. Isn't that what they say?"
Rating this book was tough for me. I devoured it entirely in one sitting and I absolutely love the way this author writes, but that ending man. There's a few things I cannot get past.
Last year I read this author's marvelous book After I Do and fell in love with it. It was a top book of 2014 for me I (so if you haven't read it, please go do so right this minute). So when a friend told me that this book was up on Netgalley I HAD to grab it. And I'm so glad I did.
After traveling constantly the past decade or so, Hannah Martin has finally returned to her home town of Los Angeles after a disastrous attempt at living in New York. She moves in with her best friend Gabby, who takes her out to celebrate at a bar where she meets her ex-boyfriend Ethan. When Hannah goes to leave for the night she has an offer from Gabby and Ethan for a ride home. Here the story splits into two versions: one in which she leaves with Gabby, the other in which she leaves with Ethan. Both choices have the power to shape her life differently, bringing into question our fate.
"As long as you're happy and you're doing something good with your life, it really doesn't matter whether you went out and found the perfect thing or you chose what you knew you could make work for you."
One thing I find extremely special about Taylor Jenkins Reid is she makes the reader think. What if? And while that question has been present in both books I've read by her, it is the central theme of this book. This isn't your typical romance novel for more than the obvious reasons, but because it makes the reader think about more than one outcome for the characters in the book. And the author made it difficult to interpret what the "right" decision was. (Brave Ms. Reid, bravo).
As I mentioned before I could not put this book down. I was enthralled from page one and kept reading until the final one. I will say I have a giant craving for cinnamon buns now and will promptly buy one as soon as I can. And I'm not the biggest fan of that type of pastry.
The idea of the parallel universes made by our choices is fascinating. I'm going to digress here, but there was a television show on the Disney channel I watched as a kid called So Weird, and in an episode one of the character went through the same dilemma, although her alternate self was evil or something dramatic. There are so many possibilities to work with when one includes the parallel universe. But what was most interesting to me as a reader, was to see what remained the same. The things in life that are a constant like unconditional love, determination, finding one's own place or calling in life. Life may be about choices, but it's also about the things and people in life you can depend on.
I will say the end of this book left me with an overwhelming feeling of sadness. I'm not saying there isn't an HEA, but with the parallel universes come the choices never made or the missed opportunities. I really enjoyed this book. It's not a typical romance but it's a story that you'll be thinking about days and weeks after you've read it.
"If there are an infinite number of universes, I don't know how I got so lucky to end up in this one. Maybe there are other lives out there, but I can't imagine being as happy in any of them as I am right now, today. I have to think that while I may exist in other universes, none is as good as this."
ARC provided by Atria Books via NetGalley in exchange for an honest review