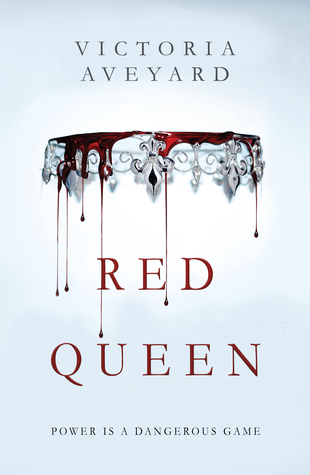 Red Queen by Victoria Aveyard
3.5 stars 
"Rise, red as the dawn."
***As I always say 3 stars is not a bad rating. It means I liked the book! I just didn't love it. And believe me, this is a strong 3 stars!***
Mare Barrow is a red blooded woman living near the bottom of her society. Reds live below the silver bloods, those who are better than the reds because of the color of their blood and their special abilities. Getting by as a pickpocket, Mare is certainly doomed as she nears the age of conscription. On a chance meeting outside a tavern, Mare obtains a job at the palace as a serving girl. It's there that she discovers, in front of a rather large crowd, that she has special abilities of her own. Now thrown into a world where she doesn't belong, Mare but pretend to be a silver in order to survive.
I think I went into this book with my expectations too high. While I enjoyed it, I wasn't blown away by it. In fact, most of the giant plot twists I pretty much saw coming. The best part for me was watching everything unravel around Mare and how she kept getting sucked into important political plots when all she wanted to do was survive.
The concept of the book was very cool, it reminded me a bit of the idea of blue blood, definition "Comes from the medieval belief that aristocratic blood was blue. Usually used talking about nobility and royal family members" . Instead of the color of one's skin, people are separated into classes by the color of their blood. The author also added the bit that silver bloods had abilities, giving them even more visible and obvious power and strength than the red bloods.
It's hard for me to explain why I didn't love this book. I really didn't care for Mare's indecisiveness between Cal and Maven, her treatment of those around her such as her guard Lucas and her maids (not that she was mean but she ignored them). There were so many things I felt went into detail but others were rushed. Again, I'm probably doing a horrible job of explaining it. There was something missing for me, but I cannot put my finger on it.
But overall as I said, I enjoyed this book and will definitely be reading future books by this author as I think she has a huge amount of talent and potential.