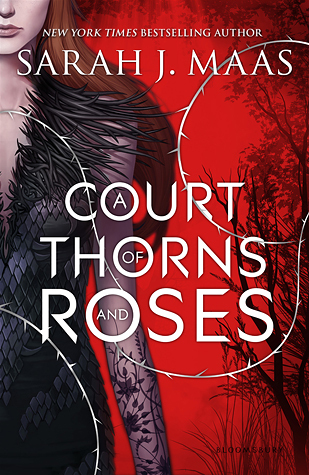 A Court of Thorns and Roses by Sarah J. Maas
5 stars!!!
Going into this book I had no clue it was a different take on the Beauty and the Beast fairy tale. In fact, I basically went into this book blind because I wanted to have a clean slate going in. This author has such a way with words, on the page they are lyrical and evoke such emotion from the reader. The fantasy genre has always been close to my heart, and in Sarah J. Maas I have found an amazing author whose books I can always turn to when I want something spectacular to read.
Feyre and her family have fallen from nobility to peasants as the result of bad business decisions from her father. Motherless, Feyre has taken it upon herself to hunt for food for her father and two older sisters, even if she is underappreciated. One day while out in the woods, Feyre encounters a wolf and kills it. She skins it's coat and sells it in the village the next day. Very soon a furious Fae appears at her family's door and demands payment for the death of his friend. Feyre is to choose: death or to return with the Fae to his lands and remain there for the rest of her life. She chooses the later and is immediately brought to the fae realm to the Spring Court.
Once they reach the court and the fae resumes his more human form, Feyre sees that all of the fae in the Spring Court wear masquerade masks. Left with not much to do, Feyre worries for her family who she will never see again. Feyre also gets to know more about the fae who took her, Tamlin and his friend Lucien.
"My priority would be to protect my family — and I would have picked whatever side could keep them safest. I hadn't thought of it as a weakness until now."
As I said before, I love the way this author writes. From the first chapter I was completely absorbed in the story and didn't want to put the book down. Maas's strong points lay in her ability to shape characters and character relationships. I loved seeing Feyre's development as she tried to think for herself and what she wanted versus the obligations she felt pulling at her. The romance with Tamlin was slow building and I love every minute of it. Even her friendship with Lucien with its snarky comments and banter was so much fun to read. Maas is just amazing at the dynamics involved with two people getting to know each other, whether it be romance, friendship or just a mutual respect. It's why I keep coming back to her books and will continue to do so in the future.
(My casting for Feyre):

Beauty and the Beast is a favorite fairy tale of mine and so I was intrigued by this author's version of it. There are similar elements to the original story and other elements that aren't. She did a great job of taking a well known story and making it her own without ruining it. The second half of the book was a very different take and that's where most of the books action comes in.
Best part about this book? No cliffhangers at the end. Sure, this story will continue, but I won't be ripping my hair out in want of another book. I also wanted to point out (and I've already done this for other books by this author), these books do not read as YA for me at all. It reads like adult fantasy. So don't pigeonhole this book based on what you think it may be, because it's so much more.
A beautiful story and gorgeously written, I highly recommend this book to other readers who enjoy fantasy and great character development.