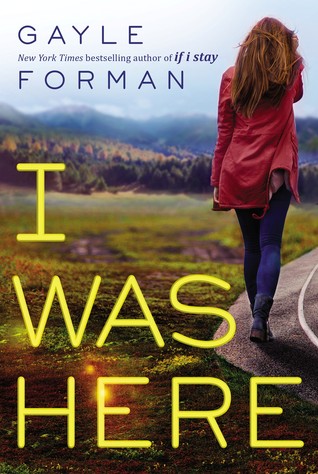 I Was Here by Gayle Forman
4.5 stars
Suicide is a very popular topic in the young adult genre, and normally a topic I stay away from. But when I saw this book with the pretty cover I couldn't resist.
Cody is astonished when she discovers her friend Meg has committed suicide. Meg's parents ask Cody to go to Meg's school and pack up her thing, which is where Cody discovers Meg held a very different life than the one she told Cody. Due to a weird phrasing in Meg's suicide note, Cody investigates the circumstances of Meg's death and discovers she was involved in a chat room where the participants support other users in taking their own lives. Cody becomes obsessed with one user in particular, and thinks they may hold the answers to her friend's death.
I think the thing I loved most about this book was how it is set in the first year after high school. There are so few books like this out there, I can really only name one or two others, and they don't address the issues that come after graduation. For many teenagers, just getting into college is the endgame and they don't consider what's next. Life doesn't always turn out how we expect, and I felt that was a small theme of this book. But the important thing is to embrace the change and either accept our path or change it ourselves. I liked the fact that Forman's main character attended community college, because many teens choose to do this over a four year university. Cody was an intelligent young woman, but if everyone who was intelligent was able to go to college we would all be living in a different world.
I'm going to get a little bit personal here, but I want to put it out there. My first year of college was tough, really tough for me. I went to a school 7 hours away from home and only one other kid from my high school went there and he dropped out. I had an easy start making friends, but I soon learned that not everyone is as nice or actually cares about you as much as you think they do. I remember feeling so alone that first year, and it really didn't get better for me until my freshman year was almost over. My friends from home had their own things they were dealing with at home or at their own colleges and it became hard to stay connected with them. So, in a small way I can relate to Meg, in that I felt incredibly lonely in a place where I was surrounded by people all the time. I'm very different from Meg in that I never, NEVER contemplated suicide. But my experience reminds me that it's easy for young college students to become vulnerable in a new place with people they don't feel connected to. And that's where the predators can strike.
Basically, I really connected with this book and loved it. I realize this book might not be for everyone, but as I always say about books, you never know until you try.
Some people who reach out for help sometimes reach to the wrong person or place, and it's important to remember that suicide is not the answer. It gets better, it did for me, it will for you. No matter how you feel, there are people who care about you, whether you know it or not, whether you believe it or not.
And if you do know someone, or loved someone who took their own lives, it's not your fault.