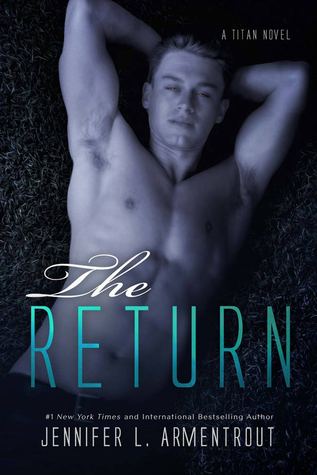 The Return by Jennifer L. Armentrout
4 Apollyon stars!
"You're just…you're just Seth."
"And you…you're just my salvation."
***First off, I just want to note that you must finish reading The Covenant series before reading this book. The Return is a new adult spinoff of the young adult series, the first book titled Half Blood and it's a serious I rated 5 stars across the board so I highly recommend reading it.
The Return is about Seth, the Apollyon who aided in several unforgivable crimes a few years before. In order to atone for all of his actions, Seth agrees to be the bidding boy of the Greek Gods. This changes when Apollo tasks Seth with protecting someone at all costs.
Josie is a college student who is worried about her next test and her unwell mother back home. Upon meeting Seth she is whisked into a new world, one containing Greek gods, demigods, sentinels, titans, furies, daimons and more. After shit hits the fan at her college, Seth must escort Josie to a safe location but they face many obstacles along the way.
I love that Seth got his own book. There were so many times when reading The Covenant series that I wished we as the readers knew his motivations or his side of things, so I was very grateful to get his perspective in this book. Seth's main focus is toatone for all of the horrible things he's done in the past, and the horrible tragedies that his actions ultimately led to. There is an undeniable attraction between Seth and Josie, but Seth cannot believe he would deserve a girl like her, and believes he would not be the man she deserved. Based on all of his baggage, I can see where he is coming from with that.
I really liked Josie as a new character, she had a lot of spunk but wasn't at all reckless. Her goal was to survive to live another day. I look forward to seeing her development in the next book. I feel like we just scratched the surface with her.
I loved the character cameos we got to see in this book, mostly Apollo, Luke and Deacon. Deacon always seems to put a smile on my face and I hope he's around a lot more. I would have liked more cameos but hopefully they will come later.
Overall, I really liked this book, but because of some unresolved plot points at the end I can't say I loved it.
Oh and I'm not normally mean about this, but who the f*** chose this cover?? It is AWFUL! That guy looks like he's high and he looks nothing like Seth. If you've seen the original cover (in my updates below) you can see what I mean, and I strongly wish they had stuck with the old cover. It was much better.