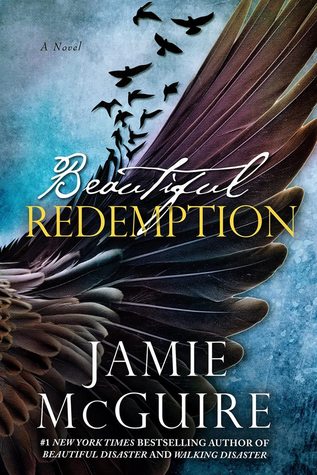 Beautiful Redemption (The Maddox Brothers #2) by Jamie McGuire
2 stars
Beautiful Disaster was my first ever New Adult novel. It's the reason I started reading romance books and not just young adult books. I read it all in one sitting and stayed up until 4 am trying to finish it. The appeal of the first book was it's ability to suck you in and make you root for these characters who don't seem good for each other. Beautiful Redemption does not fit in the same category as its predecessor.
Liis has left behind her job and her fiance in Chicago when she tranfers to the FBI office in San Diego. On her first night there she has the best sex of her life with a beautiful stranger. Liis goes into work the next day and surprise surprise, her one night stand is in fact her new boss. Agent Thomas Maddox had his heart ripped out by the girl he loved, who left him for his brother Trent. Now he and Liis must go undercover in order to recruit Travis into the FBI.
WARNING!!!
Soooooooooooooooooooooooooooo, yeah. This isn't Jamie McGuire's best work. I was super excited to read this when I got my paperback in the mail, especially when I saw it was self-published. Her other books are published by Atria. I was excited because I assumed, wrongly, that because it was self-published, the author would take risks and do something new. Yeah nope.
First things first, when I was reading Beautiful Oblivion, I never really got the impression that Thomas was super in love with Camille. Sure he liked her and they were dating, but I didn't see the birds singing and forest animals cleaning. So imagine my shock over the fact that he just could not let her go in this book. Yet he still actively pursued Liis knowing that he was just as emotionally unavailable as she was.
The suspension of disbelief of the FBI plot was too damn high. I find it very hard to believe that all FBI agents are in the same age range and all attractive, and that they talk more about each others relationships than they're own jobs. Plus, the whole "we're recruiting Travis because it's the only way to save him" plot was very unbelievable to me. Even with a brother with connections, there's just no way.
This was me reading those parts:

The middle of the book I considered DNFing out of sheer boredom. I ended up skimming a bit in the hopes that the book would get better. It only mildly did.

Lastly, that ending? Come on!!! ***SPOILER*** When they both admit they love each other when they think the other one is dying? Barf.
Be more original with the next book please!!!!
And for those of you that would say this is a mean review, remember that I rated Beautiful Disaster a 5 and Beautiful Oblivion a 4. So obviously, this book just didn't work for me like the other ones did.