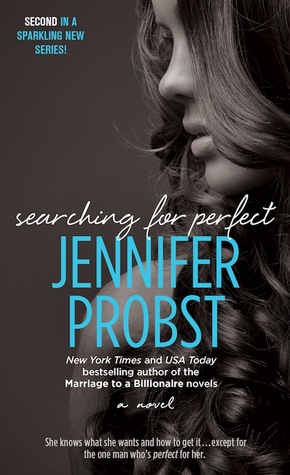 Searching for Perfect (Searching For #2) by Jennifer Probst
3.75 perfect stars
Searching for Perfect is the story of Ned. Ned is an aerospace engineer, aka rocket scientist, and at the age of thirty has decided he is ready to find a wife and settle down. After attending a speed dating event, Ned meets Kennedy, one of the matchmakers at Kinnections. Kennedy, seeing that Ned is in dire need of a makeover, outside and inside, takes him on as a client, guaranteeing that she will find him his perfect match.
When Kennedy says makeover, she means it. Ned is subjected to various forms of torture, including spa days, waxing, zumba, even changing his name to Nate. But despite all of this, he and Kennedy form an understanding of each other, and their understanding blossoms into full blown feelings. But Kennedy doesn't believe in a long term relationship for herself, and it's up to Nate to convince her to take the risk.
Jennifer Probst is a long time guilty pleasure author for me. There isn't a single book she's written that I haven't enjoyed, and Searching for Perfect continues this tradition. This book was so damn funny. I'm not kidding, 20% in and I was laughing so hard at Nate's makeover escapades I had tears in my eyes. I can't remember the last time a book made me laugh like that.
I loved the characters; Kennedy is a strong complex woman with past issues that make the reader empathize with her. Nate is so socially awkward he makes you giggle, but has such a strong heart you can't help but root for the guy to get what he wants.
I loved the addition of Wolfe in this book, as well and Probst's characters from past novels. It's like having old friends come to visit when she includes them.
Overall a very funny, angsty and sweet read.
ARC kindly provided by Gallery, Threshold, Pocket Books, via NetGalley, in exchange for an honest review.