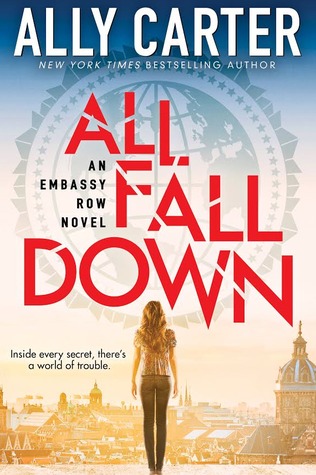 All Fall Down (Embassy Row #1) by Ally Carter
3.5 stars
All Fall Down is my first Ally Carter book and I must say, it's an enjoyable read. The age level is a little lower than I usually read, I would classify this book as a middle grade for ages 12-16. It is the perfect type of book for transitioning young readers out of the chapter books and into the Young Adult/Teen genre.
Three years after witnessing her mother's death Grace is sent to live with her ambassador grandfather in a country that borders Iran. Grace used to spend her summers at the embassy as a child and is already familiar with the area and the politics. While here, Grace discovers that the man she believes to have murdered her mother is here as well, and she sets about on a plan to bring him down.
This is one of the more interesting plots I've read in the young adult genre, lots of modern day politics and espionage are afoot. I'm not really used to reading a simpler type of book and that's why this book received a 3.5 star review from me. Plus, I found the ending to be highly unbelievable.
I think many teens, girls and boys, could relate very well to Grace and her situation. No, not all teens are able to deal with inter-political plots between countries, but they will relate to Grace and her struggle for adults to take her seriously. The adults in this book did not believe Grace when she went to them for help, leaving her feeling useless and helpless, something many teens feel like a lot of the time. I liked that Grace did what most teens (and people) want to do, and she took matters into her own hands and tried to unravel the mystery of her mother's death herself.
I would have liked more development between Grace and the character of Alexei. I still at this point cannot determine if he was a love interest or not. He just sort of popped in and then would disappear for various amounts of time. It felt really random. Hopefully that will be resolved in the next installment.
ARC kindly provided to me by my boss. Who received this from the publisher. So I guess the ARC was indeed provided by the publisher. It just wasn't intended for me. Muahaha!