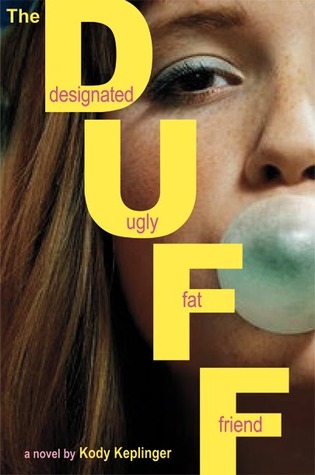 The DUFF: Designated Ugly Fat Friend by Kody Keplinger
4.5 Duffy stars!!!
"No matter where you go or what you do to distract yourself, reality catches up with you eventually."
OMIGOSH YOU GUYS! I loved this book!! Like seriously, I kind of can't believe how much I loved a book that literally means "ugly fat friend".
Over the years I've seen this book in passing, in the library, bookstores, and lists titled "Best Book Boyfriends". I never picked it up because come on. Look at the title. Now look at the cover. Based on those two things, would you read it? Well this is an extreme case of don't judge a book by its cover… or its title.
Bianca is a cynical girl, but her friends don't mind it. They love her for who she is. One night when all three are out, Bianca finds herself near the school manwhore Wesley, who proceeds to educate her on the fact that she is the Duff. Designated Ugly Fat Friend. This title makes Bianca's head spin, and she goes into a small identity crisis. On top of that, things aren't so good with her parents and her life around her is falling apart. Assigned to work on a project together, Bianca and Wesley end up having a secret friends with benefits relationship, both trying to escape their crappy real lives.
As I stated before, I loved this book. Because it surprised me.Bianca was a character I loved so much. She was ridiculously cynical, and I guess maybe I am too because most of the time when she would say something, I'd be sitting there nodding my head and going "hey, I would say that!"
And this book had some seriously funny moments and dialogue in it. For example:
"Spanish, huh?" he said, glancing down at the scattered papers as he grabbed them. "Can you say anything interesting?"
"El tono de tu voz hace que queria estrangularme." I stood up and waited for him to hand over my papers.
"That sounds sexy," he said, getting to his feet and handing me the stack of Spanish work he'd swept together. "What's it mean?"
"The sound of your voice makes me want to strangle myself."
"Kinky."
"Your sense of humor needs some work, then," Wesley suggested. "Most girls find my jokes charming."
"Those girls must have IQs low enough to trip over."
"I mean, there is a reason its initials are VD. I bet you more people contract syphilis on Valentine's Day than on any other day of the year. What a cause for celebration."
"Vagina, vagina, vagina. Get over it, Jess. You have one. You can call it what it is."
Despite having a sense of humor, this book also dealt with serious teen issues. Bianca's parents were going through a divorce and her dad was becoming less and less present, and she didn't know how to deal with it. Bianca's former asshole of an ex-boyfriend shows up in town with his new fiance. Wesley's parents are always gone and his crone of a grandmother won't let him see his sister. Lots of teen drama rama.
The other things that surprised me about this book? There was so much sex! Like from the beginning. Would you look at this hot pink and yellow cover and think you were in for a large round of young adult fade to black? Not me! It was kind of refreshing to read a teen book and have it be realistic about what teens are experiencing in real life.
And Wesley. *sigh* I loved that asshole. Like, he was such a freaking jerk in the beginning, but like Bianca, the more I saw him in the book I couldn't help but swoon over his arrogant ass. I agree with the list, he's a great book boyfriend.
"Don't lie to yourself because you think it's safer. Reality doesn't work like that."
At the end of the day, everyone who reads this review is going to read whatever the heck they want. I'm the same way. But, I encourage you to ignore the title and cover, and to read this gem of a book. That or go and see the movie when it comes out this February. Hopefully it doesn't suck.