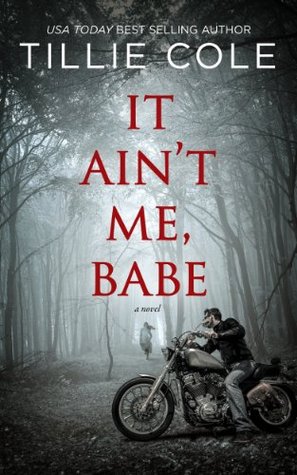 It Ain't Me, Babe (Hades Hangmen #1) by Tillie Cole
2.75-3 stars
"We were always fated to be together. He is my everything. He is my entire world…Styx is my salvation."
Welp, I am in the minority. Yet again. I wanted to love this one, I did. Like, I even love the premise still. Because cults versus motorcycle clubs? Hell yeah! The end result just wasn't what I wanted. Too high of expectations I think.
Mae has lived with The Order her entire life carrying out their wishes. On the day she is to be married to the prophet, she flees, leaving her sisters behind. Mae finds a ride away from the hidden compound, but the driver pretty much dumps her, severely injured on the property of the local MC Hades Hangmen. The club Prez Styx, sees Mae bloodied up and dying behind a dumpster and immediately gets help. Once Mae wakes up, she and Styx realize they have met before….
At this time, I really can't do anything other than rant on the things I didn't like, so I'm not really going to review this book. If you really want to talk to me about it, message me. Based on the fact that I gave it 3 stars, I did like the book, I just wasn't overwhelmed with it's amazingness. Again, I think it's because I had higher expectations. The last 25-30% of the book redeemed itself for me, but the first 60-70% really pissed me off.
Will I read book 2? I think I'd like to give it a whirl.