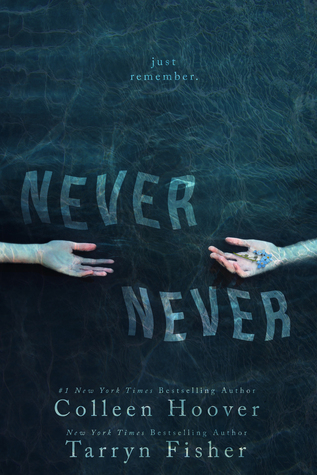 Never Never by Colleen Hoover and Tarryn Fisher
3 stars!
First off I'd like to reiterate that just because I rate a book 3 stars doesn't mean it wasn't good. It just means I didn't love it. I liked this book, I did. I just wish I had waited to read this until the 2nd book was released. Because this book ends on aCLIFFHANGER!!!!!!!!
I don't want to give anything away, so in the tradition of the lovely Kat Stark , this is my (mini) unconventional review.
My thoughts while I was reading this book:
-"Hmm, Tarryn Fisher really has a thing for amnesia."
-"Damn, this book reminds me a lot of Don't Look Back by Jennifer Armentrout just with 2 people and not 1 person."
-"OMG CoHo soooooooooooo wrote that part."
-"Why are they so focused on kissing each other rather than figuring out what's happening to them? Those are some damn strong horny hormones!"
-"Now I want a grilled cheese. Damn it, that was CoHo's doing again!"
-"Eeek! A penis!"
I will say that despite there being a cliffy (which I expected) it was a DAMN GOOD cliffy.
So overall, I like the concept but I wish this book had been more than 140 pages. I will read book 2. Whenever it decides to come along.