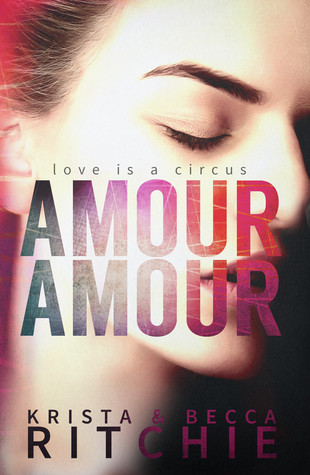 Amour Amour by Krista and Becca Ritchie
4 Circus is Family stars
So it's no secret that I have a giant literary girl crush on the Ritchie twins. In a world of generic NA, these two writers are the diamonds in the rough of their genre. As a reader, I know going into every single one of their books that I will be transfixed by the lives of their characters as if I knew them myself. Their books are unique, evoking, and beautiful. Amour Amour is all of these things as well.
Thora is a college student who decides to drop her entire life in Ohio to go and audition for a Vegas stage show Amour, which is kind of like the Cirque de Solei shows. Thora has risked her entire future on this audition, her scholarship, degree, friendships and her relationship with her family to pursue her dream.
On her first night in Vegas, she meets Nikolai, an alluring Russian. After quite the memorable meeting, Thora shows up to her audition and one of the judges is of course Nikolai. Without spoiling much, Thora's audition doesn't go according to plan, but she remains in Vegas anyway. That's when Nikolai offers to train Thora.
I found this book to be very refreshing and remarkable. The strongest themes were self-discovery and to follow your dreams, and as cheesy as that sounds, it really wasn't. Thora worked her ass off to be where she was, and she loved every second of it, the good and the bad.
One of my favorite parts of this book, and honestly my favorite aspects of all of these authors' books, is the side characters. Many books and authors have side characters in the background for the majority of the book, someone waiting in the wings until their cue to help guide the main characters toward their climax (book climax, stop thinking dirty things y'all). The Ritchie twins do the opposite of this and give the reader incredibly well developed side characters, like anyone else you would be around in real life. Their side characters are a huge part of why their books are so relatable, because you can actually feel surrounded by them as well.
My favorite side character was John. In a way, he kind of reminded me of Ryke from the Addicted series. A much bitchier and snarkier Ryke. I also loved Nikolai's brothers and sister; their presence almost always bringing a smile to my face.
The romance between Thora and Nikolai was really well done, I spent most of the book sighing (inwardly) at Nikolai and his sweet actions toward Nora. But he was still an awesome alpha male, so don't go thinking he's a softy just yet.
The romance was emotional, sweet and a little angsty which is exactly what I love.

If you haven't yet given the Ritchie twins' books a try yet, this one would be a great place to start. I would still recommend reading the Addicted series first as there are references in this book to that series (and those little tidbits were amazeballs).