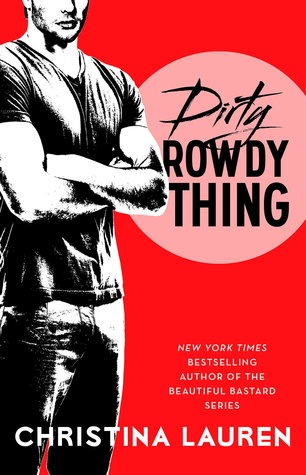 Dirty Rowdy Thing (Wild Seasons #2) by Christina Lauren
4 stars
"Finn could break your vagina and be just handy enough to put it back together."
Dirty Rowdy Thing is the story of Harlow and Finn. Harlow is the daughter of Hollywood royalty and Finn is a Canadian fisherman. In the last book Harlow and Finn got married alongside Mia and Ansel in Vegas, but after a 12 hour sex romp they went ahead and got an annulment. There were no hard feelings between them, Harlow even visited Finn up in Canada for another sex trip. One which after they were done, he promptly called her a cab.
Fast forward a couple months later and Harlow runs into Finn in a Starbucks in her hometown in San Diego. Finn is in town on "business" and staying with their mutual friend Oliver for an indefinite amount of time. Harlow and Finn come to the decision that they should continue their friends with benefits scenario. But it's not long until they begin to feel more for each other.
Well, this book was certainly dirty. Especially Finn and his dirty talk and affinity for tying Harlow up. I liked this a lot more than the last book because the last book was all about role playing. And I HATE role playing. This is what I see when I think of role playing:
And this is what I see when Finn ties people up:

Much classier, yes?
I digress.
Unlike the last book I really liked the characters for who they were in this book. Harlow is a strong, confident and loyal woman. She may be privileged but she's not spoiled. Harlow doesn't always have to understand her friends to love them. I liked that she was a fighter and had a bit of a vulnerability about her. She was also freaking funny.
"Come in. Sit anywhere but on the bed. Don't look cute, don't get undressed, and don't touch my underwear."
Finn is a stoic guy, but very insightful. He's a caring friend if not always vocal about it. He also see's Harlow for who she really is, except when he's teasing her about what he knows she isn't.
Like the first book, this book has the main characters keeping secrets from each other. I won't tell you the secrets because that would be spoilering, but I felt the characters made similar types of mistakes in this book that Ansel and Mia made. Just on a different level.
***SPOILERS AHEAD BEWARE***
My only issue with this book? Finn at the end. For those of you who've read this, you know what I'm talking about.
Seriously?? He got mad at Harlow for trying to save his job? And then he leaves town? Without saying goodbye when she might be pregnant? No bro. Not cool bro. And then he was a total dick to her when she went to Canada. This book is officially filed under not enough groveling. She took him back way too easily.
The ending was a bit abrupt, I would have liked to see an epilogue. But I guess I'll have to wait until 2015 for that. Boo!