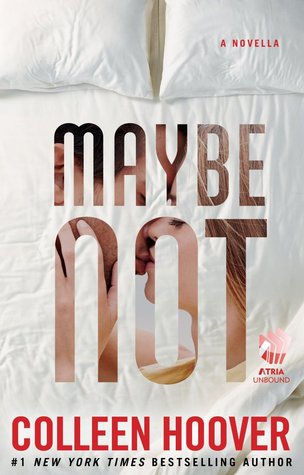 Maybe Not (Maybe Someday #1.5) by Colleen Hoover
3.5 stars!
"It's hard to fall in love with assholes, Warren."..
"Maybe you just haven't met the right asshole yet."
This was super cute!!!!!! I wasn't the biggest fan of Maybe Someday, but when I read so many positive reviews on this novella, I had to give it a shot and I'm glad I did! I ended up like it more than Maybe Someday.
Maybe Not is the short story of Ridge and Sydney's roommates, Warren and Bridgette. In this we get to see how they meet, how an attraction builds and then eventually a sexual relationship (and boy do these two hit the sack). There isn't much in terms of a hard plot, but it did focus on the building of a relationship between two people and I really enjoyed reading their journey.
Not much more to say except this book is good for some laughs and for some feels. I highly recommend if you need something light yet fulfilling to read.
"The only difference between falling in love and being in love is that your heart already knows how you feel, but your mind is too stubborn to admit it."