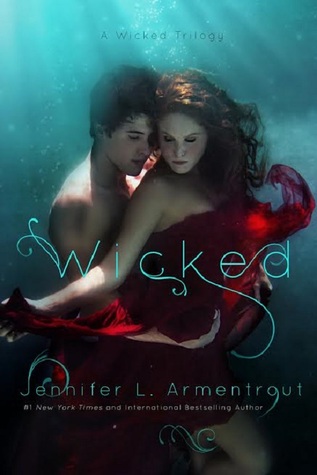 Wicked (A Wicked Saga #1) by Jennifer Armentrout
4 Tink stars!
"I'm a lot of things, but today I'm your fucking saving grace."
This one was a nice surprise! After seeing a handful of negative reviews on this one, I went into it with lowered expectations. I came out of this reading experience a very happy girl! And after 2 previous books I DNF'd, I need this gem of a story.
First off, this book is very much New Adult genre, so don't go into it thinking it's YA. The fact that in Chapter 1 the MC is discussing getting laid and orgasms is the first giant sign.
Ivy is a member of an Order that can see fae in our realm. Faeries aren't the good guys, in fact they feed off of humans with deadly consequences. Living in New Orleans, Ivy has a very tragic past and does her best to keep those around her at arms length. That is, until she's assigned a new partner Ren, who is hotness come to life and very much interested in her.
This book had me smiling the majority of the time I was reading it. It's not the most original plot, but it was enjoyable and it worked for me. Because my brain is a bit fried at the moment, I'm doing a breakdown review.
What I liked:
-Ivy: A great mix of kick ass woman with a little but of a vulnerable girl in her, Ivy wants more than the predicted short life span the Order has to offer. Ivy dreams of a future of moreand I found that admirable.
-Tink: Loved this guy, he was freaking hilarious. Especially that Dobby house elf scene. LMAO!
"You gave Tink a scarf. Tink is free!" He flew out into the hallway like a little cracked-out fairy, screeching, "Tink is freeeeee!"
-Ren's determination: While he was spewing a bunch of instalust, Ren made the point that in their line of work, they had to chase after what they wanted with no hesitations. And he wanted Ivy and his pursuit of her was so much fun to read.
-Pop culture references: I'm fairly certain that this book is self-published, and I feel because of that JLA was able to include references to Harry Potter, The Walking Dead, Amazon Prime etc, which yes will date this book in the future, but gave the book a unique touch that I rather enjoyed.
"Why couldn't he say I reminded him of Ariel or something? Then again, Ariel was kind of stupid, giving up her voice for a dude."
-Setting: I've always wanted to go to New Orleans, so enough said.
What I didn't like:
-Pacing: Got a little slow there in the middle and I did have to push myself a bit to keep going. But it soon picked up and remedied itself
-Cliffhanger: Gah! We have to wait until Summer 2015 for answers!! JLA you wound meh!!!
-Predictability: <—that pretty much says it all.
Bottom line, if you need a quick, unique New Adult read mixed with a little bit of Urban Fantasy, this book is for you!