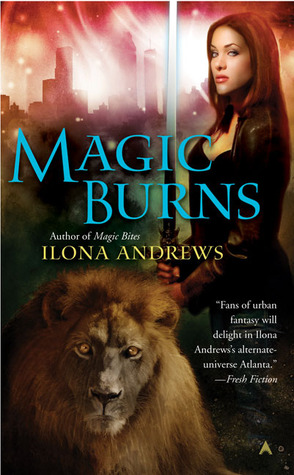 Magic Burns (Kate Daniels #2) by Ilona Andrews
4.5 "I'm really starting to love this series" stars
"You don't cause problems. You cause catastrophes."
While investigating a mysterious bowman who killed her mark, mercenary Kate Daniels finds herself in the custody of a pre-teen girl. Turns out the young street girl has some magical powers, the kind of powers that 1 in 10,000 people get and there are creatures coming after her. Kate must go to the last person she wants help from, Curran, and together they fight to help the girl.
Another great installment in this series. The plot thickens with this book but we still have some questions left unanswered. Such as:
-What exactly is Kate?
-Who is Roland?
-What interest does Curran have in Kate?
My favorite part of this book was the interactions between Kate and Curran. Their banter is so much fun to read and I am dying for the two of them to admit they have the hots for each other.
"Not only will you sleep with me, but you will say 'please.'"
I stared at him, shocked.
The smile widened. "You will say 'please' before and 'thank you' after."
Nervous laughter bubbled up. "You've gone insane. All that peroxide in your hair finally did your brain in, Goldilocks."
Ilona Andrews writing duo has done it again and marked a winner in my book. The world building and character development are awesome, and that's all I ask for in urban fantasy. Well, those two things and the hopes of romance.
Short review from me, because I'm dying to get to the third book. I keep hearing rumors about a hot tub scene 😉