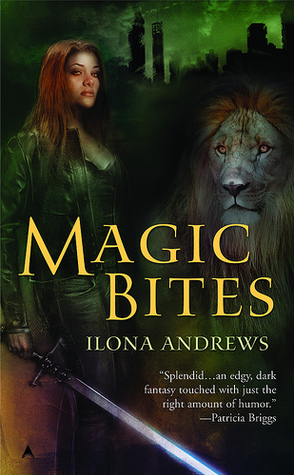 Magic Bites (Kate Daniels #1) by Ilona Andrews
4.5 stars
"What kind of woman greets the Beast Lord with 'here, kitty, kitty'?"
The best kind of woman! To say I enjoyed this book was a serious understatement. But I get ahead of myself.
Kate Daniels is a mercenary who cleans up paranormal messes. When she gets news that her mentor, and last connection to any family she has, is murdered, Kate takes on the case. She is thrown into the world of Shapeshifters, Vampires and the People, and must make ruthless decisions in order to find the killer.
I didn't know what to expect going into this book. I've been a long time fan of urban fantasy/paranormal romance and have been searching for a series to fill in the gap of series I have finished by authors such as Kim Harrison, Patricia Briggs and Kelley Armstrong. It wasn't until recently that I had even heard of Ilona Andrews, and that was through reviews I'd seen here on Goodreads from reviewers like Jessica (Rabid Reads), Lola, and Sharon is an Emotional Book Junkie (so thank you ladies!)
"I gave him my best cryptic smile. He did not fall down to his feet, kiss my shoes, and promise me the world. I must be getting rusty."
I absolutely love the character of Kate. She's not your typical heroine, she's a smart ass, a fighter, a mercenary and yet so emotionally vulnerable at the same time. The 260 pages or so of this first book was not enough time with her, and I look forward to reading her development in the other installments.
"You know anything about investigative work?"
"Sure. Annoy the people involved until the guilt party tries to make you go away."
The world building style reminded me a bit of Harrison's Rachel Morgan series, in that Andrews threw you into this new world with little to no explanations as to how it came to be, and as a reader you were on your own. I personally like that because to me, the reader is as smart as you make them . Many authors assume their reader needs to be lead on a leash through their worlds and that's not always the case. Ilona Andrews gave the reader the chance to use their intelligence and I greatly appreciated it.
Curran. That Beast Lord. I already am Team Curran but it's just book 1, so I shall see. There wasn't exactly a romance between Kate and Curran, but there is a tangible sexual tension that made me giggle and smile whenever they had scenes together in the book. Plus, he's an alpha male, and I love the alpha males.
Another character I loved was Nick, the Crusader, but more because he reminded me a lot of Captain America's Winter Soldier. I think he'll have a great character arc.
Enough rambling on my part. This was a fantastic book and you should read it.